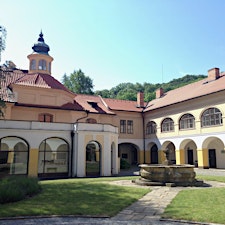 Istituto Italiano di Cultura di Praga
The Italian Cultural Institute in Prague, located in the heart of the Malá Strana district, is the official Italian governmental body dedicated to promoting Italian language and culture in Czech Republic. 
L'Istituto Italiano di Cultura di Praga, situato nel cuore dell'antico quartiere di Malá Strana, è un ufficio governativo italiano che promuove la lingua e la cultura italiane nella Repubblica Ceca.
Italský kulturní institut v Praze se sídlem v srdci Malé Strany je italskou vládní kanceláří, která má za úkol šířit a propagovat italský jazyk a kulturu v České republice.
To pursue this mission the Institute: 
Per queste finalità l'Istituto:
Za tímto účelem Institut:
Organizes concerts, cultural events and exhibitions. 

Organizza concerti, eventi culturali e mostre.

Pořádá koncerty, kulturní akce a výstavy.
Organizes Italian language courses. 

Organizza corsi di lingua italiana.

Organizuje kurzy italského jazyka.
Facilitates initiatives that promote the Italian Language in Czech Republic, including collaboration with Italian Lecturers at Czech Universities. 

Sostiene iniziative che promuovono la lingua italiana nella Repubblica Ceca, anche in collaborazione con i lettori di italiano attivi presso le università ceche.

Podporuje iniciativy, které šíří italský jazyk na území České republiky ve spolupráci s vyučujícími italského jazyka působícími na českých univerzitách. 
Encourages cultural and scientific collaboration between Italy and Czech Republic.

Favorisce la collaborazione culturale e scientifica fra l'Italia e la Repubblica Ceca.

Napomáhá kulturní a vědecké spolupráci mezi Itálií a Českou republikou. 
Establishes contacts with institutions, bodies and personalities in the Czech arts and scientific communities to promote projects that further the knowledge of Italian life and culture. 

Al fine di promuovere progetti che diffondono la conoscenza della cultura e dello stile di vita italiani stabilisce contatti con istituzioni, enti e personalità della comunità scientifica e artistica ceca.

Za účelem propagace projektů, které rozšiřují povědomí o italské vědě a kultuře, navazuje kontakty s českými institucemi, společnostmi a osobnostmi z oblasti věd a umění.
Provides documentation and information about Italian cultural life and the institutions working in this field. 

Fornisce documentazione e informazioni sulla vita culturale in Italia e sulle istituzioni che operano in questo settore.

Poskytuje informace o kulturním dění v Itálii a o institucích působících v této oblasti. 
Supports initiatives for the cultural development of the Italian community in Czech Republic  to facilitate both its integration in this Country and its cultural links with Italy.

Sostiene iniziative per lo sviluppo culturale della comunità italiana in Repubblica Ceca per facilitarne l'integrazione in questo Paese e i legami culturali con l'Italia.

Podporuje kulturní akce italské komunity v České republice, aby tím napomohla její integraci v této zemi a podpořila kulturní propojení s Itálií.
For further information on the history and the activities of the Italian Cultural Institute in Prague, please visit our website: www.iicpraga.esteri.it
Per maggiori informazioni sulla storia e sule attività dell'Istituto Italiano di Cultura di Praga, visita il nostro sito web: www.iicpraga.esteri.it
Pro více informací o historii a aktivitách Italského kulturního institutu v Praze navštivte naše webové stránky: www.iicpraga.esteri.it
Spiacenti, non è presente nessun evento imminente