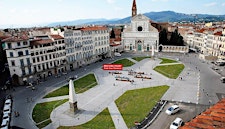 Another Florence
If you are looking for a free walking tour in Florence then you are in the right place! Free Tour Florence will show you Another Florence and will provide you a wonderful experience: fun and educational.
Florence is famous for its rich culture, Renaissance art, architecture, and monuments. Our professional and licensed tour guides will show you the real heart of the city by giving you the best tips about local life, food and drinks or practical questions regarding your stay in Florence.
Don't miss the chance to visit Florence off the beaten tracks with the eyes of a local!