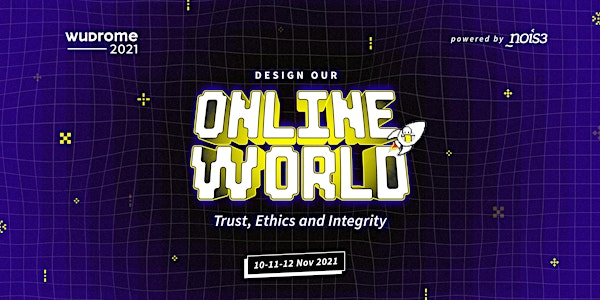 WUDRome2021 - World Usability Day Rome
An event about training, innovation and networking.
Refund Policy
Contact the organiser to request a refund.
About this event
About WUDRome2021
WUDRome – World Usability Day Rome, organised by NOIS3 – Experience Design Agency, is an event that every year brings together in Rome design professionals from around the world, with the mission of spreading usability practices and human-centered design principles.
Design of our Online World: Trust, Ethics and Integrity
In our theme this year, we seek to explore online products and design systems that are helping us to stay connected, learn and grow in these transformational times. Through this theme, we also aim to address important issues such as Dark patterns and Ethical design, Designing for Trust, and Diversity, Equity and Inclusion.
>> Discover the event schedule
Conference on November 10-11-12
In 2020 due to the COVID-19 emergency, the conference became a virtual event. This year we decided to go hybrid thanks to some of our Sponsors opening their offices to host the live streaming of #WUDRome. That means that some of you can attend in person and meet up with some attendees and the teams of Microsoft Italia (@Rome, @Milan and @Molfetta), Caffeina (@Parma) and Sketchin (@Manno, Swiss).
Workshops on Friday, November 12
Also this year, we will have amazing workshops on Friday, November 12.
All workshop tickets include also the 3-day conference ticket for WUDRome2021.
Online Workshops
Swimming in High T.I.D.E. by Salvatore LaRosa
Learn how to keep into account trust, integrity, diversity and ethics in any service, and develop a systemic design mindset (that is what Salvatore calls "learning to swim in a different, high tide").
Make Time for What Matters by Julie Harris
Time is More Important Than Ever. Learn by doing in this hands-on workshop to reconfigure how we use our time and attention. We'll explore our current defaults and start setting new ones - for ourselves and the people we're designing for.
In-Person Workshops
Building a more ethical future using Speculative Design by Stefan Manastirliu
Ethical decision-making is hard. Business interests often lead the conversation, prioritizing financial gains in the short term, sometimes at the expense of more ethical choices for both the end-user, the society and the planet. Yet, we can leverage the Speculative Design approach to sufficiently stretch the horizon e work on a medium-long timeframe to make more balanced, and ultimately better decisions.
eCitizen e PA: sistemi aperti in relazione continua by Federico Rivera
The workshop aims to design a vision of the future of Italian digital services to enable citizens and institutions to have a single point of relationship and interaction with the Italian public ecosystem. The research and co-design activities involve PA executives and Next-Gen citizens to understand the Italian ecosystem, draw a future vision, and imagine viable service models.