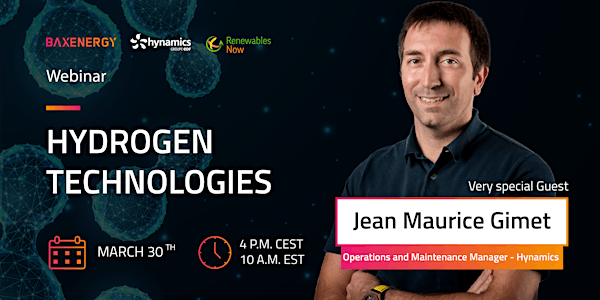 Webinar: Hydrogen Technologies
Join BaxEnergy and Hynamics in our discussion regarding all factors of Hydrogen and how the technologies provide for a greener future!
Date and time
Starts on Thursday, March 30 · 7am PDT
About this event
Learn about the latest trends and innovations in hydrogen technologies.
Discover the benefits of using hydrogen as an energy source.
Understand how BaxEnergy can support you in adopting hydrogen technologies and integrating them into your renewable energy infrastructure.
Ask questions and interact with our experts.
About the organizer
WE ARE
BaxEnergy is more than just a technology company. We are a group of passionate thinkers with the obsession of making business scalable and profitable, in energy and beyond. 
OUR MISSION & VISION
Our mission is to make renewable energy easier, more efficient, affordable and secure, contributing to build a greener world for the benefit of present and future generations. Our vision is a future shaped by accessible and clean renewable energy, where we are pioneers in offering innovative best-in-class solutions.
HOW WE DO IT
We do it  just using our creativity, passion for innovation and rock-solid software.