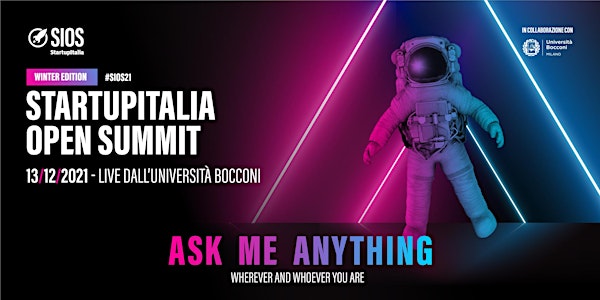 StartupItalia Open Summit Winter Edition
StartupItalia Open Summit Winter Edition
When and where
Location
Università Bocconi- Aula Magna 1 Via Guglielmo Röntgen 20136 Milano Italy
About this event
Prendi i biglietti per StartupItalia Open Summit Winter Edition del 13 dicembre.
Non perderli!
StartupItalia torna con SIOS21 Winter Edition, in collaborazione con Università Bocconi.
Il 13 dicembre dalle 9:00 saremo sul prestigioso palco dell'aula magna insieme a startupper, imprenditori, CEO, sportivi e personaggi del mondo dello spettacolo. Parleremo insieme di innovazione, sostenibilità, Digital Tech, Made in Italy, formazione e tanto altro.
Vi aspettiamo quindi con il Rettore Gianmario Verona, con Paolo Barberis, Marco Montemagno, Giampaolo Colletti, dal vivo il 13 Dicembre a Milano
Nel pieno rispetto delle norme anticovid l'ingresso all'Università Bocconi sarà contingentato e consentito solo a chi ha il biglietto (gratuito come sempre) e il green pass.
Come da tradizione, conferiremo il prestigioso premio di StartupItalia "Startup of the Year" grazie a un'autorevole giuria e il "Community Award", scelto da voi!
Per accedere all'evento sarà necessario presentare il green pass.
Ti aspettiamo a #SIOS21 WINTER EDITION
https://startupitaliaopensummit.eu/
L'ingresso è gratuito, ma è necessario registrarsi su questa pagina. 
Nota bene. Trattandosi di un evento a ingresso gratuito, la prenotazione non garantisce l'ingresso, fa fede l'ordine di arrivo, fino ad esaurimento posti.
L'appuntamento è per il 13 dicembre all'Università Bocconi.