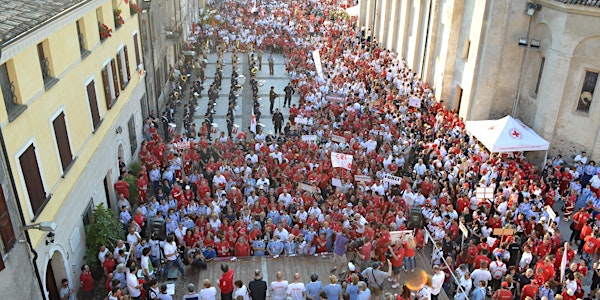 Solferino 2016
When and where
Location
Red Cross Camp 46040 Solferino Italy
Description
Solferino è la culla di una idea straordinaria, quella secondo cui una persona in difficoltà deve essere aiutata indipendentemente dalla divisa che indossa. Ed è quella stessa idea che ancora oggi, a più di 150 anni dalla firma della I Convenzione di Ginevra, anima l'impegno della Croce Rossa Italiana e dell'intero Movimento Internazionale di Croce Rossa e Mezzaluna Rossa.
Il campo di Solferino sarà caratterizzato dalla partecipazione di molteplici delegazioni dalle 190 Società Nazionali consorelle (che compongono la Federazione Internazionale della Croce Rossa e Mezzaluna Rossa), oltre ad ospitare per il terzo anno la Solferino Academy, il think-tank internazionale per la promozione del dibattito umanitario. Solferino '16 sarà l'occasione per ripercorrere la nostra azione umanitaria in Italia e nel mondo e condividere strategie per affrontare le principali sfide umanitarie coinvolgendo la società civile, le altre organizzazioni umanitarie e il mondo accademico.

I POSTI LETTO AL CAMPO CRI SONO TERMINATI. È POSSIBILE ACQUISTARE SOLAMENTE FIACCOLE, PASTI E PERNOTTAMENTI AL CAMPEGGIO LIBERO DELLA GHISIOLA.
Solferino is the cradle of an extraordinary idea, that a person in need must be helped regardless of the uniform he or she wears. And even today, more than 150 years after the First Geneva Convention was signed, the same idea inspirits the commitment of the Italian Red Cross and of the entire International Red Cross and Red Crescent Movement.
Solferino camp will be characterized by the participation of many delegations from the 190 National Societies who make up the International Federation of Red Cross and Red Crescent Societies. The event will also host for the third time the Solferino Academy, the international think-tank to promote the humanitarian debate. Solferino '16 will be an opportunity to go through our humanitarian action and of the entire Movement; further, we will share strategies to address the major humanitarian challenges, involving civil society, other humanitarian organizations and the academic world.
ACCOMODATIONS AT SOLFERINO CAMP ARE SOLD OUT.