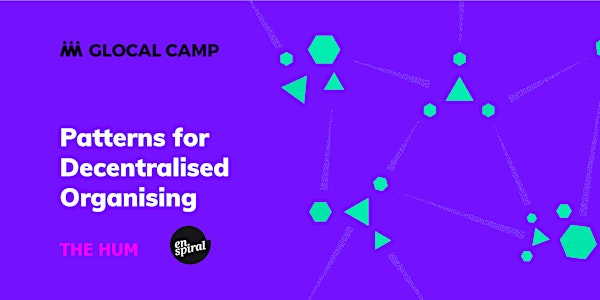 Patterns for Decentralised Organising
Workshop: Patterns for Decentralised Organising - CivicWise Glocal Camp.
When and where
Location
OvestLab 86 Via Nicolò Biondo 41126 Modena Italy
About this event
ENG
If you are trying to organise in a decentralised, collaborative, non-hierarchical team, you are probably asking yourself: How do we include people in decisions without spending so much time in meetings? How do we develop an open, collaborative culture? How do we encourage participation, engagement, and shared responsibility? And if nobody is in charge, where does accountability come from?
You are not the only one. Everyone seems to face the same challenges when trying to work without a traditional command-and-control structure. The good news is: you don't have to reinvent the wheel! Many of us have found solutions, and we are here to guide you along the way.
About Us
The Hum is Nati Lombardo and Rich Bartlett. We have been immersed in decentralised organisations since 2011, playing co-leadership roles in the Loomio tech co-op and the Enspiral network of self-managing social enterprises.
For the past 3 years, we've been travelling the world sharing our experiences, and learning with others about non-hierarchical management. We've worked in 17 countries, with a huge diversity of organisations: NGOs, tech companies, co-ops, activist collectives, and government agencies.
Patterns for Decentralised Organising
We believe that your organisational structure must be custom-fit to your local context, considering the specific needs and objectives of the people you work with. We don't have a blueprint or recipe that you can cut-and-paste onto your organisation.
Instead, we offer patterns. These are lenses that reveal new insights into your organisational challenges. We share practical solutions that we've tried on ourselves, and collaborative practices we've curated from other decentralised teams. In our approach we prioritise culture and relationships ahead of tools and processes.
About this workshop
A full day participatory learning experience where we will share with you our 10 Patterns for Decentralised Organising. Through engaging exercises and group dialogues you will gain insight on how you can apply them in your group to build a nourishing, highly engaged and productive team environment.
Training Methodology
Our training method combines three elements:
Our knowledge is rooted in our lived experience in our own organisations at the forefront of collaborative work practice.
We bring examples from different groups around the world, as well as research from academic studies.
We host participatory learning exercises for participants to reflect on how these lessons apply in their group context.
Workshop Outcomes
Learn new models for collective decision-making, like the advice process and consent-based decisions.
How to allocate tasks, share roles and build accountability.
Visualise the digital tools in your team, find the gaps, and understand how to introduce new tools well.
Understand the use of rhythms to cut through information overload.
How to have hard conversations: give constructive feedback, deal with conflict, and talk about power differences.
Learn process for accessing continuous improvement in your organising systems and team behaviours.
The workshop will be held in English!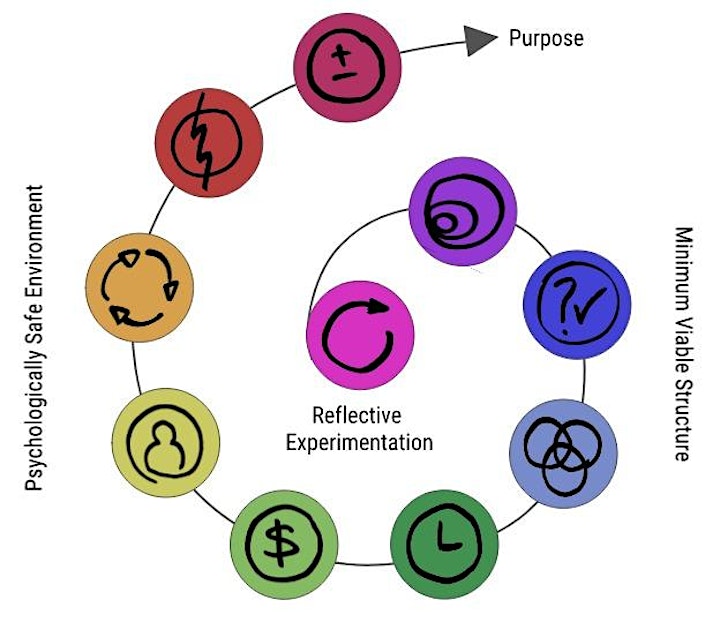 ITA
Se stai cercando di organizzarti in un team decentralizzato, collaborativo e non gerarchico, probabilmente ti stai chiedendo: come includere le persone nelle decisioni senza passare tanto tempo in riunione? Come sviluppiamo una cultura aperta e collaborativa? Come incoraggiamo la partecipazione, l'impegno e la responsabilità condivisa? E se nessuno è responsabile, da dove viene la responsabilità?
Non sei l'unico. Tutti sembrano affrontare le stesse sfide quando cercano di lavorare senza una tradizionale struttura di comando e controllo. La buona notizia è che non devi reinventare la ruota! Molti di noi hanno trovato soluzioni e siamo qui per guidarvi lungo la strada.
Chi siamo
The Hum è Nati Lombardo e Rich Bartlett. Facciamo parte di organizzazioni decentralizzate dal 2011, svolgendo ruoli di co-leadership nella cooperativa tecnologica Loomio e nella rete di imprese sociali autogestite Enspiral.
Negli ultimi 3 anni, abbiamo viaggiato per il mondo condividendo le nostre esperienze e imparando cos'è la gestione non gerarchica. Abbiamo lavorato in 17 paesi, con un'enorme varietà di organizzazioni: ONG, aziende tecnologiche, cooperative, collettivi attivisti e agenzie governative.
Patterns for Decentralised Organising - Modelli per l'organizzazione decentralizzata
Riteniamo che la tua struttura organizzativa debba essere adattata al tuo contesto locale, considerando le esigenze e gli obiettivi specifici delle persone con cui lavori. Non abbiamo un progetto o una ricetta che puoi tagliare e incollare sulla tua organizzazione.
Invece, offriamo modelli. Queste sono lenti che rivelano nuove intuizioni nelle vostre sfide organizzative. Condividiamo le soluzioni pratiche che abbiamo provato su noi stessi e le pratiche collaborative che abbiamo curato da altri team decentralizzati. Nel nostro approccio diamo priorità alla cultura e alle relazioni prima di strumenti e processi.
Il workshop
Un'esperienza di apprendimento partecipativo di un'intera giornata in cui condivideremo con voi i nostri 10 modelli per l'organizzazione decentralizzata. Attraverso esercitazioni coinvolgenti e dialoghi di gruppo, acquisirai informazioni su come applicarli nel tuo gruppo per creare un ambiente di squadra nutriente, altamente impegnato e produttivo.
Metodologia di formazione
Il nostro metodo combina tre elementi:
La nostra conoscenza è radicata nell'esperienza vissuta nelle nostre organizzazioni in prima linea nelle pratiche di lavoro collaborativo.
Portiamo esempi da diversi gruppi in tutto il mondo, così come la ricerca da studi accademici.
Ospitiamo esercizi di apprendimento partecipativo per i partecipanti per riflettere su come queste lezioni si applicano nel loro contesto di gruppo.
Risultati del workshop
Impara nuovi modelli per il processo decisionale collettivo, come il processo di consulenza e le decisioni basate sul consenso.
Come allocare compiti, condividere ruoli e creare responsabilità.
Visualizza gli strumenti digitali nel tuo team, trova le lacune e scopri come introdurre bene i nuovi strumenti.
Comprendere l'uso dei ritmi per ridurre il sovraccarico di informazioni.
Come avere conversazioni difficili: dare un feedback costruttivo, affrontare i conflitti e parlare delle differenze di potere.
Scopri il processo per accedere al miglioramento continuo nei sistemi di organizzazione e nei comportamenti di squadra.
Il workshop sarà interamente in inglese!