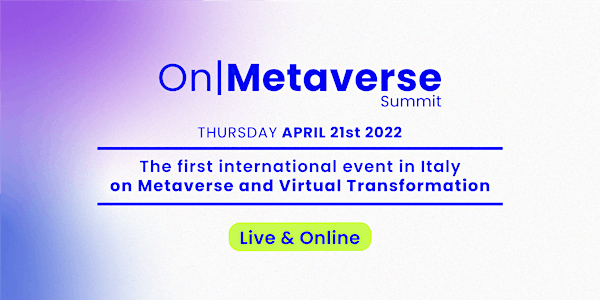 On|Metaverse Summit
The first Italian event, with an international vision, to discover the possibilities of the metaverse and virtual worlds.
When and where
Location
Superstudio Più 27 Via Tortona 20144 Milano Italy
Refund Policy
Contact the organizer to request a refund.
Eventbrite's fee is nonrefundable.
About this event
On|Metaverse Summit is the first international event in Italy about metaverses and immersive technologies applications for business.
Why Attend?
Get an overview of the metaverse state of the art and get a feeling of how socialization and business processes can become in a 3D world.
Excursus on the emerging use cases and applications that today use the technologies of virtual worlds to drive competitive advantage.
Become aware of the opportunities and challenges of the new paradigm, drawing inspiration from the best practices of those who have already created innovation.
AGENDA
Breakout Sessions (invite only)
9.30 – 10.00 Registration & Welcome
10.00 – 12.00 Workshops & Masterclass
Get an in-depth look at hottest topics when designing your strategy for the metaverse
A. Data&AI – by BID Break in Data
B. HR&Training – by SKILLA
C. Digital Transformation – by BTO Research
D. Marketing – by VELVET MEDIA ITALY
Conference Session (Open to registered attendees)
13:30 – 14:00 Registration Opens
14:00 – 14:05 Openings – Welcome to On | Metaverse Summit – by Barbara Gasperini
14:05 – 14:20 Towards Virtual Transformation – by Lorenzo Cappannari (AnotheReality)
14:20 – 14:35 The future of an immersive Metaverse – by Artur Sychov (Somnium Space) in remote
14:35 – 15:15 Panel – What is Web 3.0: applications and future evolutions by Stefano Capaccioli (Coinlex), Salar Shahana (WorldXR), Vincenzo Rana (Knobs); moderated by Marina Geymonat (SISAL)
15:15 – 15:20 Wandering the many roads to the Metaverse – part 1 – by Luca Morena (Nextatlas)
15:20 – 16:00 Panel – Customer experiences in the metaverse – by Cris Nulli (Live Now Italy), Alessandro De Grandi (The Nemesis), Carlo Rodomonti (RaiCinema); moderated by Elisabetta Rotolo (MIAT)
16:00 – 16:05 Welcome to Cyberspace – by Tommaso Borioli and Antonio Toccarelli
16:05 – 16:20 Coffee Break
16:20 – 16:25 Remote Working Communication – by Heitor Bravi (PICO)
16:25 – 16:35 Digital Twin & Data Protection – by Billy Berlusconi (IGOODI)
16:35 – 16:55 The next big thing in crypto: Metaverse! – by David Namdar (Coral Capital) and Leonardo Maria De Rossi (SDA Bocconi), in remote
16:55 – 17:00 Investing in the metaverse – Ori Inbar (Super Ventures) in video
17:00 – 17:15 Revolutionizing Data With XR – Suzanne Borders (BadVR)
17:20 – 18:00 Panel – Virtual Training, Real Learning and Advantages – Marco Pietrucci (Terna), Stefano Merante (ITCILO/ONU), Michael McDonald (SDA Bocconi Learning Lab), moderated by Barbara Gasperini
18:05 – 18:10 Wandering the many roads to the Metaverse – part 2 – by Luca Morena (Nextatlas)
18:10 – 18:35 The 7 Rules of the Metaverse – by Tony Parisi, ME Ventures, in remote
18:35 – 18:50 Workshop Session Breakdown – by Skilla, BTO Research, BID Company, Velvet Media
18:50 – 19:00 Video – Shelley Peterson (Microsoft)
19:00 – 19:20 Conversation – The future of XR – by Charlie Fink (Forbes), moderated by Tony Vitillo
19:25 – 19:30 Conference Closure
19:30 Networking Aperitif
*L'agenda potrebbe subire cambiamenti senza preavviso