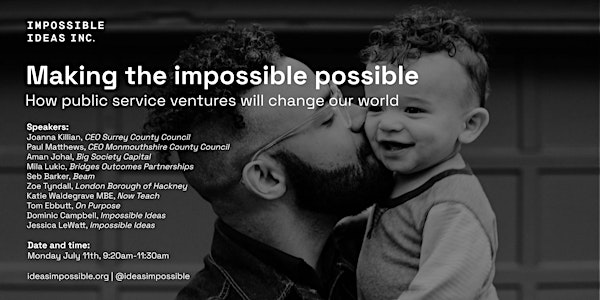 Making the impossible possible
How public service ventures will change our world
About this event
Join our mission
The world is changing fast. Whether driven by the internet age, the pandemic, or both, our organisations are changing fast with it. At least, many organisations we rely on day to day are, from travel experiences, to food delivery and how we make and consume media.
But this wave of change hasn't reached our public services; held back not only by a lack of investment but also a lack of space to bring together our brightest and best public service innovators and entrepreneurs. To imagine, to invent, to deliver public service experiences that can be the envy of the private sector.
How might we learn from the freedom and creative energy of startup culture, while baking in the benefits of government values and democracy, its passion for supporting those most in need when people need us most, into a new wave of public service startups?
Impossible Ideas Inc. is a non-profit public service venture studio that is working with the sector to deliver a collaborative new model to build and support public service ventures fit for the 21st Century.
We are inviting you to join our mission.
This event
This event is aimed at a diverse range of people passionate about not just improving but radically transforming our public services. From senior leaders in the sector to people working on the frontline overflowing with ideas about how to make change happen, from social entrepreneurs to social investors looking to supercharge change in our communities we want to hear from you and have you join the gang.
Whether you're a seasoned pro up for sharing your journey or a total newbie intrigued about what might be possible, you're in! All we ask is that you bring a cheery disposition and an open heart looking to learn and be a part of making a movement.
We're putting together an initial 2 hour event to hear from a wide range of people who see the opportunity for public service entrepreneurialism and want to persuade you to get on board with it too.
Intrigued? RSVP now and we'll see you there!
Agenda
9:20 - 9:30 - Attendee Introductions
Part One - The challenge we face and the need for collaboration
9:30 - From commercialism to entrepreneurialism - creating the space for creative collaboration in public services (Jessica LeWatt - Co-Founder of Impossible Ideas)
9.40 - Where next for local public services (Joanna Killian, CEO Surrey County Council, Paul Matthews, CEO Monmouthshire County Council with Dominic Campbell - Co-Founder of Impossible Ideas)
9:55 - Social Outcomes Partnerships as a way to invent next generation of public services - (Mila Lukic , Co-Founder and CEO of Bridges Outcomes Partnerships and Aman Johal, Investment Director of Big Society Capital)
10:10 - 10:30 - Group discussion
Part Two - Making the most of new approaches for change and how might we best support them?
10:30 - The role of public service entrepreneurs (Tom Ebbutt - Managing Director of On Purpose)
10.40 - Making social ventures happen - the experience of Now Teach (Katie Waldegrave - Co- Founder at Now Teach)
10.50 - Venturing from the inside - Here to Help Hackney (Zoe Tyndall - Head of Service: Here to Help at London Borough of Hackney)
11:00 - Beam - a truly 21st Century public service startup (Seb Barker - Co-Founder at Beam)
11:10-11:30 - Group discussion
11.30 - End
About the Speakers:
Dominic Campbell - Investor, Partner and Co-Founder at Impossible Ideas
Dom is the Co-founder and Partner in the public service venture studio Impossible Ideas Inc, inventing transformative new organisations to deliver the public services of the future. He is also an investor in promising public service startups including Hello Lamp Post, Beam and Bloom Money. He founded FutureGov in 2008 to bring digital and design into the heart of government transformation, acting as an advisor to all levels of government in the U.K., Australia and many places in between.
Mila Lukic - Co-Founder and CEO of Bridges Outcomes Partnerships
Mila is a Co-Founder and CEO of Bridges Outcomes Partnerships. Mila works with both the portfolio and new social and development outcomes projects. Mila is on boards of Positive Families Partnership, Ways to Wellness, Stronger Families, Forward and North East Lincolnshire Social Prescribing. Mila was also a Trustee for the Bridges Impact Foundation, Bridges' vehicle which supports philanthropic activities that cannot be funded through investment. Prior to joining Bridges, Mila helped create and run Education Generation, an EdTech social enterprise focused on enabling young leaders in developing world countries to participate in some of the world's most forward-thinking education programs.
Aman Johal - Head of Social Outcomes, Investment Director of Big Society Capital
Aman is the head of social outcomes and investment director of Big Society Capital. Before joining Big Society Capital Aman worked for J.P. Morgan, leading the firm's philanthropic programme across the UK on employment and skills. Prior to this she held a number of positions across the non-profit and public sectors in the UK, including at the Young Foundation, the Foreign and Commonwealth Office, in public affairs for a national health charity and as a caseworker for a benevolent fund working on the frontline to administer support to beneficiaries. Aman is a trustee for Hatch Enterprise which provides community-based entrepreneurship programmes to emerging entrepreneurs, through an eco-system of support that includes the provision of knowledge, mentorship and workspace.
Seb Barker - Co-Founder and COO at Beam
Seb is the co-founder and COO at Beam, the world's first platform to crowdfund employment training for homeless people and support them into skilled work for the long term. He oversees Beam's public sector work and heads the Mission Support team, which is responsible for helping hundreds of homeless people secure homes and start work in sectors facing skills shortages. At Beam, Seb is uniting his experience in homelessness with the unique person-centric approach that he developed at Thames Reach and the NHS.
Tom Ebbutt - Managing Director at On Purpose
Tom Ebbutt is Managing Director of On Purpose, an organisation that supports talented and future business leaders to refocus their careers and transition from the corporate world towards socially and environmentally conscious career paths. He leads their work in London, Paris and Berlin. Prior to joining On Purpose Tom worked as the Chief Operating Officer of Ambition Institute. He has also worked as a Venture Partner at Ark Ventures, supporting the growth of high-impact social purpose organisations, and was previously a Councillor in the London Borough of Hackney.
Katie Waldegrave MBE - Co-Founder and Director at Now Teach
Katie is the co-founder and director at Now Teach, a charity that finds and supports career changers in teaching. As Executive Director, she tries to balance thinking about how to grow and improve Now Teach with the day to day dramas and joys of running any organisation. Formerly Head of History at Cranford Community College in West London, she ran First Story - a charity she founded with author William Fiennes in 2008. She is also the author of the book The Poets' Daughters.
Zoe Tyndall - Head of Service: Here to Help at London Borough of Hackney
Zoe is the Head of Here to Help at London Borough of Hackney, a new service which her team has built in the last 12 months. Here to Help aims to support the Council to adopt preventative approaches - the team's time is procured by Council services who want to test and deliver early intervention models, on a range of areas including refugee support, pensioner poverty, homelessness prevention and hoarding disorder. She was previously CEO of an education social enterprise in Hackney, and worked in social investment for CAF Venturesome and Yunus Social Business.
Jessica LeWatt - Co-Founder at Impossible Ideas
Jess is Co-Founder of Impossible Ideas Inc., a new not-for-profit public service venture studio inventing the next generation of public services. Jess has over 11 years of international experience in designing, delivering and leading successful initiatives to improve social services, public health, policy and governance.
Join us if you represent:
Local Councils
Housing providers
Local health services
Nonprofits and social enterprises delivering public services in partnership with the public sector
Further and higher education institutions
Emergency services
Social investors keen to support change
You may currently be in roles such as:
Chief Executive
Corporate Resources Director
Assistant Chief Executive
Transformation Director
Chief Digital or Design Officer
Programme Director
Assistant Director
Procurement and Commissioning Directors
Cabinet Members
Your mindset is likely to be:
Determined to make positive change happen in public services
Eager for new ways of considering change and improvement beyond current austerity-led approaches
Keen to collaborate locally and nationally with fellow creative problem solvers, social entrepreneurs and venture builders to imagine new, sustainable and cutting-edge public service delivery
Open to learning new ways of designing and launching brand new approaches to complex and age old challenges
In a position of influence - prepared to make things happen