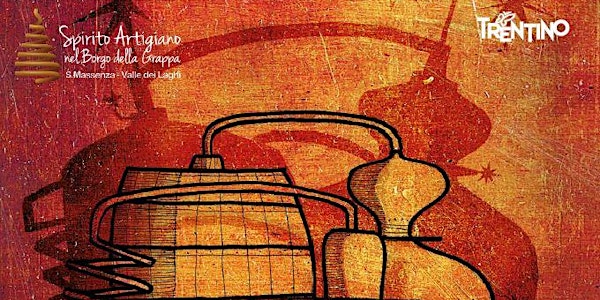 La Notte degli Alambicchi Accesi
Le distillerie storiche di Trentino Grappa al centro di uno spettacolo itinerante nelle vie del borgo di S. Massenza.
When and where
Location
Santa Massenza Santa Massenza 38070 Santa Massenza Italy
Refund Policy
Contact the organizer to request a refund.
Eventbrite's fee is nonrefundable.
About this event
La "Notte degli alambicchi accesi", in programma dal 4 all'8 dicembre 2021, è uno spettacolo teatrale itinerante dedicato all'arte della distillazione artigianale della grappa trentina nell'antico borgo di Santa Massenza, in Valle dei Laghi.
Partendo dalla tradizione del passato e dalle numerose famiglie di distillatori che lavoravano nel paese, il racconto allargherà gli orizzonti al presente e agli scenari futuri di questa importante attività, che ancora oggi continua a suscitare fascino e passione.
Sarà l'occasione per conoscere i procedimenti scientifici e simbolici indispensabili per ottenere la separazione della materia leggera da quella pesante, e tutte le evoluzioni necessarie per arrivare all'elevazione della qualità che permette di ottenere un prodotto eccellente. Lo spettatore, dotato di audioguida, sarà condotto lungo le vie del paese per assistere a scene sulla fisica dell'alambicco e a performance video virtuali, a canti lirici poetici e a brindisi naturalmente a base di grappa.
L'evento è organizzato dall'Associazione culturale "Santa Massenza piccola Nizza de Trent" in collaborazione con l'APT Trento, Monte Bondone, Valle dei Laghi e l'Istituto Tutela Grappa del Trentino, con il supporto di Trentino Marketing e il coordinamento della Strada del Vino e dei Sapori del Trentino.
Dettagli
Ogni spettacolo ha una durata di 2 ore circa e prevede la partecipazione di un numero massimo di 125 persone a turno. Lo spettacolo è adatto preferibilmente ad un pubblico adulto.
IMPORTANTE! Per motivi sanitari ogni partecipante deve portare con sé un paio di cuffie radiofoniche ad uso personale.
Per partecipare agli spettacoli de "La Notte degli Alambicchi Accesi" è obbligatorio essere muniti di Green Pass. A partire dal 6 dicembre 2021 si ricorda l'entrata in vigore del "Green Pass rinforzato" necessario per la partecipazione.
Biglietti
ADULTI - 15,00€
RIDOTTO RAGAZZI (dai 6 ai 18 anni - nati dal 2003 al 2015*) - 10,00€ - accompagnati da almeno un adulto
GRATUITO BAMBINI (meno di 6 anni - nati dal 2016 al 2021*) - accompagnati da almeno un adulto
* All'ingresso verrà chiesto di presentare un documento d'identità del ragazzo/bambino attestante la data di nascita dello stesso.
L'organizzatore dell'evento provvede al rimborso del biglietto SOLO in caso di comunicazione ufficiale di annullamento.