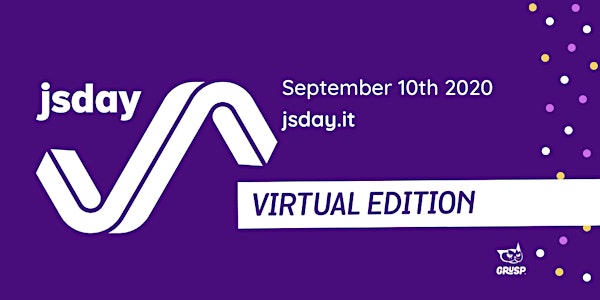 jsday 2020 - Virtual Edition
The Italian JavaScript conference - Virtual edition!
About this event
jsday 2020 has been postponed to Thursday September 10th 2020 and it will take place ONLINE!
JSDAY VIRTUAL EDITION
The conference will be accessible only to registered participants.
It won't be just a video-streaming event. jsday will be held on a very easy-to-use web-based platform that allows you to:
• watch the live streaming and learn from top-notch speakers;
• ask questions to speakers and interact with them;
• chat and talk with other attendees, interact and make connections.
WHY THIS DECISION
The pandemic related situation is improving in Italy and in Europe, but we wouldn't feel right in gathering a large group of people together in a room. We believe lot of us wouldn't feel at ease about traveling and being around too many people - not to mention the existing restrictions, like the need to keep social distancing.The conference climate wouldn't be as easy and relaxed as we'd love it to have been.That's why we believe going virtual is the right thing to do, and we decided that all of 2020 GrUSP conferences will be digital events.
TICKETS AVAILABLE
• If you had previously got your ticket: check your email, we sent you all the details!
• "jsday Virtual Edition Ticket" - gives you access to the live event on Sept. 10th and to all the recorded contents.
• "GrUSP 2020 SEASON PASS" - a Golden Ticket that gives you access to all of our virtual events: 11 awesome tech conferences, from September to December 2020! See below the full list.
SCHEDULE
Check out speakers, talks and the event agenda on the website.
ABOUT JSDAY
Born in 2011 as a track of phpday, jsday is an International conference about JavaScript, the first in Italy.
jsday is organized by GrUSP, creators of events like reactjsday, phpday and many other. 
Take a look at the last edition: website 2019 | Twitter | Vimeo | YouTube | Facebook  
FAQ 
- The tickets are not refundable. 
- If you are a student, or you need to buy multiple tickets (at least 5 tickets of any kind) mail to info@grusp.org for a discount.
- We have a SCHOLARSHIP SCHEME: you can apply for a free ticket if you are a member of under-represented groups in technology - women, minorities, LGBTQIA+, people with disabilities, or other under-represented groups. 
- The tickets are nominative: you can change the name on it until a week before the event. 
- INVOICING: you'll receive an email with the instructions after the purchase. 
- CONFERENCES INCLUDED IN "GrUSP SEASON PASS"
jsday was scheduled for May 12-13th, but on March 9th we decided to postpone it, due to the general situation related to the coronavirus - covid-19 outbreak.  On July 10th we announced the Virtual Edition.