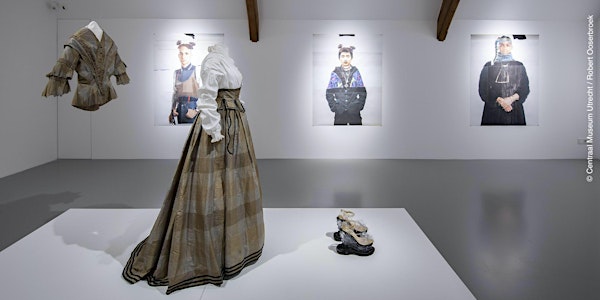 Is Sharing Always Caring?
The symposium analyses the tension between the urge to make collections available online and the need to respect cultural rights and values.
About this event
The symposium Is Sharing Always Caring?, organised by the European Fashion Heritage Association in collaboration with Creative Commons and with the support of the Onassis Foundation, will explore issues regarding digitised fashion cultural heritage, analysing approaches to making collections available and reusable online while being mindful and respectful of cultural rights, interests and values. The aim is to present some thought-provoking cases and provide museums and other cultural institutions, as well as researchers and practitioners, with some useful tools to make responsible and ethical decisions and develop policies and practices to be able to share and care.
The opening up of collections raises issues of awareness, especially linked to the provenance and history of the objects themselves and the digital data linked to them. The management, creative reuse and communication of digital cultural heritage is a hot topic when it comes to authorship and belonging, and, more generally, cultural appropriation.
Today, appropriation is central in the discussions about material culture and fashion. The appropriation of instances, designs, traditions, symbols and histories is an act performed at many levels of our society, sometimes even unconsciously, embedded in the way the dominant culture has so far managed to assimilate ideas without acknowledging their provenance and original meaning. This is true for objects and artefacts as they are designed and produced, but also when they 'change their nature' and become part of museums and private collections.
The freedoms of use associated with public domain materials can at times give way to controversy, especially when the cultural heritage of Indigenous people and local communities is concerned. Digital accessibility makes it even harder to have control over the interpretation, use and dissemination of information and often increased accessibility rhymes with increased vulnerability. Materials may be completely free for anyone to use under copyright law, but not necessarily where other legal restrictions or ethical considerations apply. This is why it is pivotal now to attribute the right value to fashion heritage, understand how to manage the digital data and respect their cultural meaning.
On the first day, the symposium will tackle issues regarding open access, analysing the possibilities created by sharing collections online, and the subsequent legal and ethical issues. The second day will be an informed ethical discussion on awareness in dealing with fashion objects linked to particular groups and cultural traditions. Both days will see the participation of speakers from fashion academia, law and copyright, museums and fashion criticism who will give open lectures on selected topics, and explore further issues in roundtable discussions, engaging speakers and the audience.
The symposium is part of the Europeana Initiative's capacity building framework.
SYMPOSIUM PROGRAMME (download the full pdf version)
MONDAY, 2 November (the timezone used is CET)
13.00 -13.15 Welcome and introduction to the panel by Marco Rendina, EFHA, and Prodromos Tsiavos, Onassis Foundation
13.15-13.35 Evelin Heidel, Creative Commons. Exploring the benefits and (some) challenges of open access
13,40-14,00 Ariadna Matas, Europeana Foundation. Open access & standardised information for digital cultural heritage
14,05-14,25 Andrea Wallace, University of Exeter. What is "open" and who is centred in "open access"?
14,30-14,50 Brigitte Vézina, Creative Commons. When available rhymes with appropriable
15,00-15,45 ROUNDTABLE chaired by Prodromos Tsiavos, Onassis Foundation and Marco Rendina, EFHA
--
16,00-17,30 WORKSHOP - Roads to opening up. In this workshop, we'll ask some questions to help assess our understanding of copyright and its relationship to open access. What steps does an institution need to go through before it can properly and clearly communicate the copyright status of works, and even reuse possibilities? How can we acknowledge the cultural complexity of working with heritage, and make sure that we approach openness in ethical ways? By participating in this workshop, participants will dive into a conversation to explore and reflect upon the main issues related to opening up fashion heritage collections.
(Attendance to the workshop is limited, participation will be confirmed few days before the event)
--
TUESDAY, 3 November (the timezone used is CET)
14,00-14,15 Welcome and introduction to the panel by Marta Franceschini, EFHA, and Brigitte Vézina, Creative Commons
14,15-14,35 Monica Moisin, Cultural Intellectual Property Rights Initiative. A legal perspective on decolonising fashion, unfair exploitation and commodification of cultural identities. What can GLAMs do about it?
14,40-15,00 Camille Callison, University of Manitoba. Caring is building Relationships to facilitate Respectful Sharing of Indigenous knowledges
15,05-15,25 Hazel Clark, Parsons New York. Fashion – the fabric of cultures – revisited
15,30-15,50 Janice Deul, Diversity Rules. Curatorial activism and the lack of Black in museum fashion collections
16,00-17,00 ROUNDTABLE with Filep Motwary, Vogue Greece; Andreea Diana Tanasescu, La blouse roumaine IA Association (Give Credit); Eva Losada, fashion photographer. Chaired by Marco Pecorari, Parsons Paris, and Marta Franceschini, EFHA