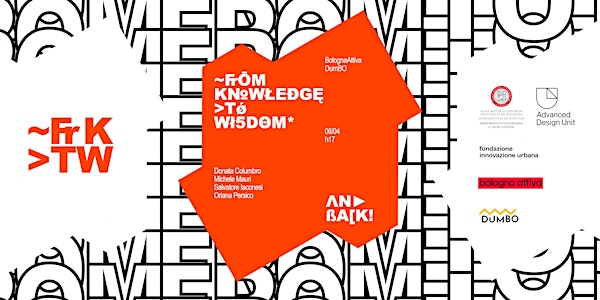 From Knowledge to Wisdom, and back!
Location
DumBO
19 Via Camillo Casarini
40131 Bologna
Italy
FROM KNOWLEDGE TO WISDOM, AND BACK!
About this event
06/04 – H17
→www.dataviz-fktw.com

Un incontro per parlare di Data Visualization!
Cosa avviene nell'istante in cui restituiamo le Data Visualization alle persone?
Siamo in grado di misurarne l'efficacia?
Quali sono i successivi impatti?
E soprattutto, quanto di tutto questo è tenuto in considerazione nelle fasi precedenti e come se ne tiene conto?

Donata Columbro/
Michele Mauri/
Salvatore Iaconesi & Oriana Persico/
L'evento è organizzato dall'unità di ricerca Adanced Design Unit, del Dipartimento di Architettura di Bologna. In collaborazione con Fondazione Innovazione Urbana, organizzato all'interno del ciclo di eventi Bologna Attiva presso DumBO.
ORGANIZZAZIONE SCIENTIFICA
Margherita Ascari / Simona Colitti / Elena Formia / Valentina Gianfrate / Ami Licaj