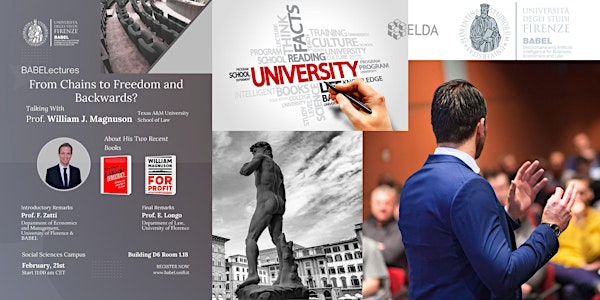 From Chains to Freedom and Backwards? Talking with Prof. W. J. Magnuson
We are delighted to host Prof. Magnuson. Welcome to the BABELectures!
By BABEL - Università degli Studi di Firenze
Date and time
Starts on Tuesday, February 21 · 11am CET
Location
BABEL-Blockchains and Artificial intelligence for Business, Economics and Law 9 Via delle Pandette 50127 Firenze Italy
About this event
William J. Magnuson is an associate professor at Texas A&M Law School, where he teaches corporate law. Previously, he taught law at Harvard University. He has written for the Wall Street Journal, Washington Post,  Los Angeles Times, and  Bloomberg. He lives in  Austin, Texas.
Prof. Magnuson will discuss his recent two books with Prof. Zatti, Department of Economics and Management, and Prof. Longo, Department of Law.
In "Blockchain Democracy", Prof. Magnuson provides a breathtaking tour of the world of blockchain and bitcoin, aiming to comprehend how technology is changing our democracy and how democracy is changing our technology.
In "For Profit", Prof. Magnuson proposes a synthesis of how corporate innovation has shaped society, from ancient Rome to Silicon Valley.
Recent events in the crypto space show us how it became part of our lives. FTX, recently, and now Genesis are steps of a transformation of the industry or are they the emergence of what it is?
Join us and follow BABEL if you wish to keep posted on other events!
About the organizer
Babel: Blockchains and Artificial intelligence for Business, Economics and Law is a research unit established in 2019 in the Department of Economics and Management of the University of Florence.
The co-founders of BABEL are Prof. Mauro Lombardi, innovation economist, and Prof. Filippo Zatti, economic law scholar, who is also the Scientific Coordinator.
BABEL aims to promote and enhance trans-disciplinary skills for allowing the coordination, drafting and management of research, transfer and innovation projects, as well as the design and delivery of lifelong and post-graduate training courses on the theoretical issues related to technologies based on distributed registers - namely, Blockchain - smart contracts, and artificial intelligence (Ai) for their application to economic and business activities, with specific regard to the relevant legal aspects.