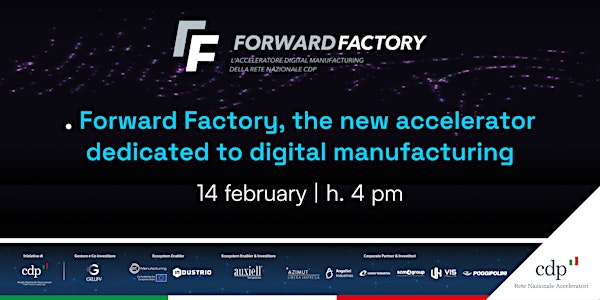 Forward Factory, the new accelerator dedicated to digital manufacturing
Forward Factory is CDP's accelerator dedicated to Digital Manufacturing and it is part of CDP's National Accelerators Network.
About this event
The program is dedicated to startups with digital innovations in the manufacturing sector and in line with the strategy of CDP's National Accelerators Network, which aims to support the development of skills and entrepreneurship in the innovation landscape.
🚀 The program is aimed at startups that can offer digital services to innovate manufacturing production processes through blockchain, AR, VR, industrial IoT, AI and big data, cyber security, cloud computing and digital robotics.
During the event we will tell more about what we are looking for and what the selected startups will do. Don't miss this opportunity to discover Forward Factory in detail.
The event will be held online and in english.
👉 You will receive the link to the live streaming a few days before the event.
AGENDA
16:00 | Italy, innovation and startups | With Lucia Chierchia, Manufacturing Lead @ Forward Factory and Stefano Molino, Senior Partner - Head of Accelerators Fund at CDP Venture Capital SGR
16:15 | Corporate Partners and Ecosystem Enabler involved | With Lucia Chierchia, Manufacturing Lead @ Forward Factory
16:35 | The Forward Factory acceleration program | With Giorgia Sterza, Program Manager @ Forward Factory
17:05 | Q&A
Visit Forward Factory website and find out if your startup has all the requirements to apply for the program 👉 https://forwardfactory.io/