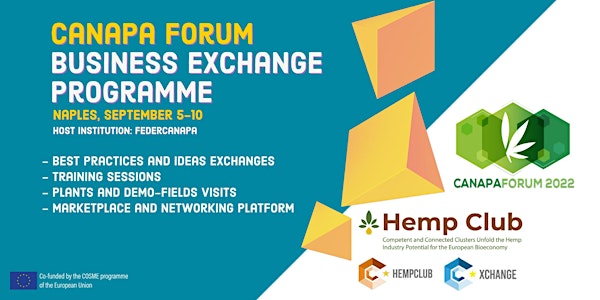 Canapa Forum - Business Exchange
Take part in this group exchange organized by the HempClub project to discover more about industrial hemp
When and where
Location
San Marcellino e Festo Monastic Complex Largo S. Marcellino 80138 Napoli Italy
About this event
The HempClub project, funded by the COSME Programme, brings together 7 clusters and association operating in the bioeconomy, advanced manufacturing and hemp production sectors to create interconnected and interregional supply chains between operators in primary production, agri-food processing and green chemistry in the hemp sector.
HempClub implements the ClusterXchange pilot scheme which aims to support short-term exchanges between two different COSME countries to better connect Europe's industrial ecosystems. It facilitates transnational cooperation, peer learning, networking and innovation uptake between actors of different industrial clusters.
Who can participate?
Participants of a transnational exchange can be representatives of cluster organisations and similar business network organisations, scaling-up support organisations (such as tech centres, research institutes, (digital) innovation hubs, fab labs, creative hubs, resource-efficiency service providers, incubators, accelerators) and SMEs that are cluster members from countries participating in the COSME programme. Unfortunately, Italian organizations cannot take part in this specific exchange, but you are more than welcomed to take part in future exchanges that will be organized abroad. Follow us on social media to stay updated on new exchange opportunities.
Visiting organizations can participate only once in the CXC mobility scheme.
Who is the host?
The five-days exchange will be hosted by FederCanapa during the annual conference Canapa Forum. Download the conference programme here.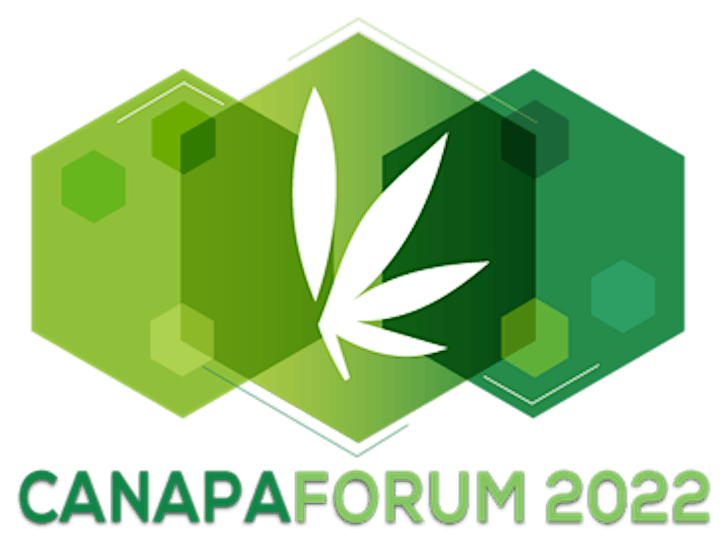 EXCHANGE OBJECTIVES
To share knowledge, individuate potential collaboration and commercial opportunities in the bioeconomy and hemp sector among HO (its cluster associates) and Visiting organizations;
To enhance collaboration and networking among actors of EU bioeconomy value chains.
To visit local companies operating in the hemp sector, including farmers and raw material processing industries;
To learn about industrial hemp uses and regulations in EU and extra-EU countries.
EXCHANGE PROGRAMME
DAY 1: Monday 5th September
14.00-14.45 Welcome to visiting organizations. Registration, short presentation of the host and visit to their headquarters
14.45-16.00 HempClub project and hemp potential. Project objectives, achievements and results and overview of hemp applications
16.00-18.30 Introduction to the exchange. Resume exchange objectives, short presentation of visiting organizations
19.00-21.00 Social dinner
DAY 2: Tuesday 6th September
9.00-11.30 Symbiotic Marketing labs. Providing marketing tools and fundamentals to improve the market enhancement and positioning of the hemp-based products helps create widespread benefits along the supply chain (textile, food and health sectors).
11.30-13.00 Italian SMEs roundtable. SMEs will be invited to present their marketing best practices for hemp and other bio-based products representing an opportunity for networking with CXC participants.
14.00-18.00 Matchmaking and B2B sessions. They will be devoted to enhancing business opportunities among CXC and some selected external participants.
DAY 3: Wednesday 7th September
9.00-13.00 Canapa Forum fair: free participation. Lectures on general framework and quality fiber for textile; products exhibition.
14.30-18.00 Canapa Forum fair: free participation. Lectures on technical fiber, shives and markets; products exhibition OR Group visits plants, industries and university labs: optional activity organized for VOs.
DAY 4: Thursday 8th September
9.30-11.30 Canapa Forum fair: free participation. Lectures on hemp seed: food and cosmetics; product exhibition
OR Business match in green chemistry. How the recovery plan can support the green transition. Presenting best practices and opportunities for collaboration. Hybrid event co-organized by Lombardy region in the context of the S3Chem* project.
11.30-13.30 Canapa Forum fair: free participation. Lectures onindustrial use of flowering tops and extracts; products exhibition
14.30-16.30 Focus groups on different topics: e.g. potential environmental benefits of hemp crop; hemp crop for sustainable and competitive EU bioeconomy; strengthening interregional strategies for the bioeconomy.
16.30-18.30 Networking cocktail
DAY 5: Friday 9th September
9.30-13.30 Canapa Forum fair: free participation. Lectures on policies on hemp in different countries; products exhibition.
14.30-18.00 Group visits plants, industries and university labs - hemp for bio-based building
DAY 6: Saturday 10th September
9.00-10.30 Networking and innovation. EU, national and local projects on hemp.
10.30-12.30 Conclusions. Visitors round table on the exchange – analysis of best practices, take-home messages and suggestions for improvement
After registration, you will be contacted via email to finalize your registration to the event.
Read more information on the exchange here.
*S3Chem project: this interreg project wants to improve the implementation of RIS with focus on chemical related topics with the help of interregional exchange of experiences and mutual learning between public authorities from seven European chemical regions. Read more here.