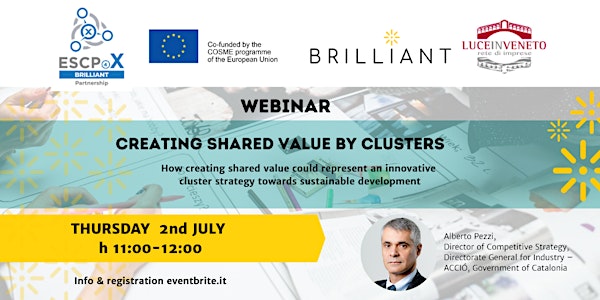 WEBINAR: Creating Shared value by clusters
Creating Shared value by clusters
Informazioni sull'evento
Luce in Veneto, as part of the project BRILLIANT (European Cluster Excellence Programme COS-CLUSTER-2018-03-02 - COSME Programme), proposes the following webinar about Creating Shared Value by clusters.
Context of the webinar: The concept of shared value, introduced by Michael E. Porter and Mark R. Kramer of Harvard University, in a seminal article in 2011, represents an innovative approach to economic development in which a company generates economic value and, at the same time, has a positive impact for the community.
Clusters represent an ideal context for identifying and implementing shared value initiatives. A pioneer initiative carried in Catalonia in the past three years opens the way for a new generation of shared value projects in line with the 2030 UN agenda for sustainable development and new paradigm combining competitiveness and social progress.
The general approach:
• Shared Value and the need of a new paradigm for economic development
• What's is the real meaning of shared value and how it works
• How it differs from Social Corporate Responsibility
• Why clusters represent an ideal environment for creating shared value
• How to articulate a Shared Value programme: some inputs from the pioneer example of Catalonia
We will present:
• A general overview of the concept of Shared Value and its importance in the context of sustainable development and the Covid-19 crisis.
• How shared value work and why clusters represents a perfect environment for creating shared value initiatives.
• The example of Catalonia in using shared value as a driver for economic development especially using clusters.
Speaker:
Alberto Pezzi, Director of Competitive Strategy, Directorate General for Industry – ACCIÓ, Government of Catalonia.
The meeting will take place in webinar mode through the Zoom platform, once you subscribe you will be sent a link to have direct access online.