Location
Arper Showroom
Design Post
Cruquiusweg 111-T
1019 AG Amsterdam
Netherlands
Description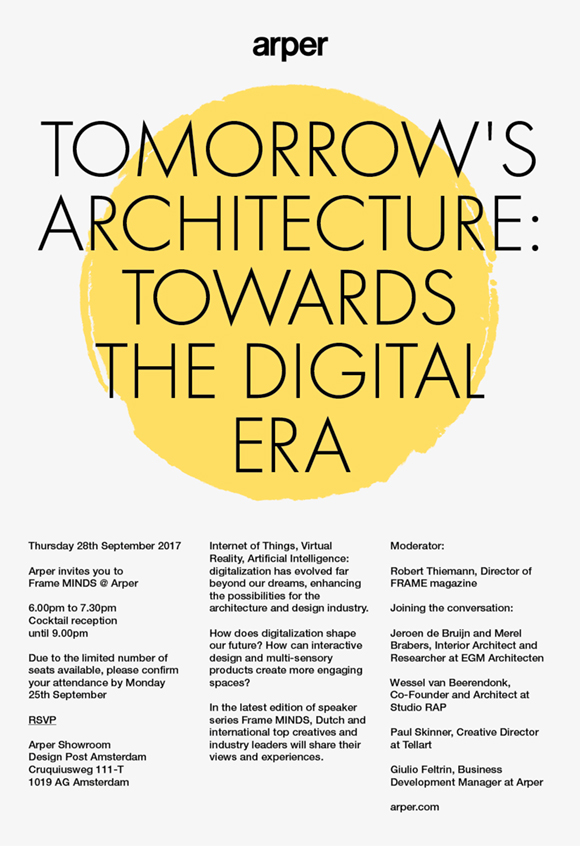 Arper invites you to Frame MINDS @ Arper
Internet of Things, Virtual Reality, Artificial Intelligence: digitalization has evolved far beyond our dreams, enhancing the possibilities for the architecture and design industry.
How does digitalization shape our future? How can interactive design and multi-sensory products create more engaging spaces?
In the latest edition of speaker series Frame MINDS, Dutch and international top creatives and industry leaders will share their views and experiences.
Moderator:
Robert Thiemann, Director of FRAME magazine

Joining the conversation:
Jeroen de Bruijn and Merel Brabers, Interior Architect and Researcher at EGM Architecten
Wessel van Beerendonk, Co-Founder and Architect at Studio RAP
Paul Skinner, Creative Director at Tellart
Giulio Feltrin, Business Development Manager at Arper
Panel discussion: 6.00pm to 7.30pm
Cocktail reception until 9.00pm
Due to the limited number of seats available, please confirm your attendance by Monday 25th September.