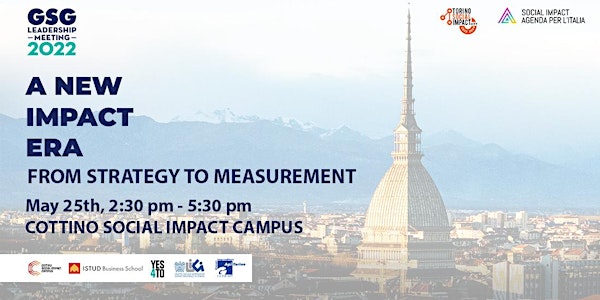 A NEW IMPACT ERA - FROM STRATEGY TO MEASUREMENT
A great opportunity for discussion&networking between the entrepreneurial and professional ecosystem of Turin and the delegates of the GSG.
When and where
Location
Cottino Social Impact Campus 30/A Corso Castelfidardo 10129 Torino Italy
About this event
Do you still want to join us?
Click here and register to follow our event in streaming!
On May 25th 2022, from 2:30 pm to 5:30 pm, Cottino Social Impact Campus and ISTUD Business School in partnership with the Global Steering Group for Impact Investment (GSG), are honoured to host and deliver a unique Learning Session for companies and managers interested in ESG and sustainability: "A New Impact Era, from strategy to measurement".
Within the framework of the GSG Leadership Meeting, scheduled from May 23rd to 25th 2022 in Torino, the Learning Session represents a great opportunity for discussion and collaboration, thanks to the organization by Torino Social Impact, Yes4TO and the Young Entrepreneurs Groups of Unione Industriali Torino and API Torino.
The Global Steering Group for Impact Investment (GSG) is a world-class organization of 34 countries whose most influential financial leaders for impact investing and philanthropy come together to solve the most compelling societal and environmental challenges.
SCHEDULE
H 2:30 pm - Welcome
Giuseppe Dell'Erba, Board Member Cottino Social Impact Campus
Marella Caramazza, General Director ISTUD Business School
Moderator: Meg Pagani - Entrepreneur, speaker and advisor for World Economic Forum Global Shaper
H 3:00 pm - 4:15 pm - Impact, from Strategy to Measurement
Dialogue between:
Karim Harji – Director, Oxford Impact Measurement Programme
Stephanie Kneer - Head of ESG & Sustainability, Atypical Partner
Mario Calderini – Polytechnic University of Milan and Scientific Advisor, Cottino Social Impact Campus
Q&A
H 4:15 pm – Coffee Break
H 4:30 pm – 5:30 pm - A New Impact Era
Alasdair Maclay - Chief Funds Officer GSG
Cliff Prior – Chief Executive Officer, GSG
Kristzina Tora - Chief Market Development Officer, GSG
Q&A
Both Q&A, curated by Yes4to and the Young Entrepreneurs of API Torino and Unione Industriali Torino, want to give voice to the questions and points of interest of SMEs in order to understand how to include the impact on the 3 focus of the event: strategy, management, measurement.
__________________________________________________________________________________________
MODERATOR
Meg Pagani is a Forbes 30under30 Founder of Impacton.org and (R)evolutionary, a speaker and a member of networks like the World Economic Forum Global Shapers and the Global Regeneration Colab.
She lived and traveled across 25+ countries studying models of growth, purpose and transformation from different cultures, ancient traditions and emerging sciences.
Her work revolves around decoding tools to apply Power and leadership in alignment with the principles of nature and regeneration.
SPEAKERS
Karim Harji is the Programme Director of the Oxford Impact Measurement Programme at the Said Business School, University of Oxford.
He is also a Founding Partner at Mondiale Impact. He advises investors, corporates, and networks to integrate impact considerations in strategy, governance, investment processes, and reporting. He was previously the Co-Chair of the Impact Measurement Task Force convened by the Government of Ontario; Member of the Impact Measurement Working Group of the G8 Social Impact Investment Task Force; Advisor to the Rockefeller Foundation; and co-founder of Purpose Capital, Canada's leading impact investment advisory firm.
Stefanie Kneer, Head of ESG & Sustainability at Atypical Partner
She is a specialist in impact measurement and management.
An economist by training, she previously led the impact team at Bridges Fund Management in the UK before recently joining the team at Atypical Partner to build a sustainable alternatives platform in Europe.
She works across the investment cycle defining the strategy and process for selecting investments, to engaging with portfolio companies and create additional value through impact measurement and management.
Alongside her colleagues from Bridges, she also launched the Impact Management Project, a global network to define standards and norms for impact measurement and management.
Mario Calderini is Full Professor at the School of Management of Polytechnic University of Milan, where he teaches Sustainability and Impact Management.
Author of books and publications in international scientific reviews, he founded and currently directs Tiresia, the research center for Innovation and Impact Finance of the School of Management of the Polytechnic of Milan.
Calderini is Cabinet Advisor to Minister of Innovation Vittorio Colao and member of the Commission for Sustainable Finance for Infrastructure.
He is a columnist for Repubblica and he wrote for Corriere della Sera, La Stampa and Il Sole 24 Ore.
In 2021, he was on the list of the 100 most influential academics on Governments in the world.
Alasdair Maclay, Chief Funds Officer GSG, is responsible for fundraising and donor relations for the GSG.
He supports the funding of National Advisory Boards and Outcome Funds.
He was previously Director of Strategy and Development at the Rhodes Trust, leading over £300 million in fundraising, with a focus on donating several scholarships to disadvantaged geographical areas, including Africa, the Middle East, China and Southeast Asia and building strategic operational partnerships with several organizations.
Cliff Prior, Chief Executive Officer GSG.
He was CEO of Big Society Capital, the social impact investment institution and market development from the UK, unltd, the UK Foundation for Social Entrepreneurs and Rethink, an organization supporting people with mental health problems.
As expert on social issues, he provided his expertise as an advisor to the British Government.
Kristzina Tora, Chief Market Development Officer GSG, has been supporting the development of the global impact ecosystem with her team since 2017.
She works with the national advisory committees of the GSG member countries and develops relations with potential new members.
She contributes to accelerating social and political change processes, educating financial actors, directing funds towards impact investments.