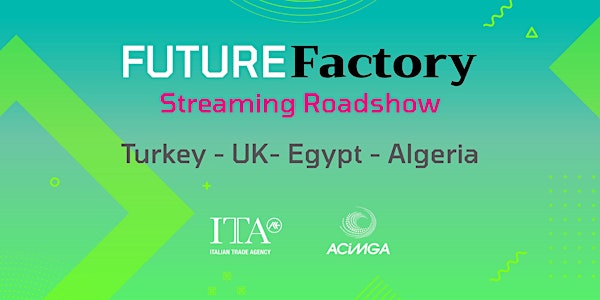 Multiple dates
2020 Streaming RoadShows Future Factory
Streaming Road Shows 2020 _ 4 Nov Turkey | 11 Nov Uk | 10 Dec Egypt | 16 Dec Algeria
Date and time
Wed, 4 Nov 2020 00:30 - Wed, 16 Dec 2020 03:30 PST
About this event
The future doesn't wait: after the great, international success of June 24, Print4All Conference – Future Factory continues on the path towards Print4All, the trade fair of May 3-6, 2022. In the autumn four Streaming Roadshow events will develop involving a wide community of industries and associations on the core themes of sustainability and industry 4.0, in Turkey, the United Kingdom, Egypt, and Algeria for key moments of discussion aimed at strengthening the precious connection between Italian companies and the International Markets, through roundtables with all the players in the supply chain.
The events
Turkey - November 4th
Uk - November 11th
Egypt - December 10th
Algeria - December 16th
The roadshows are a promotional program aimed at developing internationalisation, created by Acimga in partnership with ITA (Italian Trade Agency), the Governmental agency that supports the business development of Italian companies abroad and promotes the attraction of foreign investment in Italy.