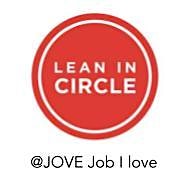 Jove • A Lean In Circle about the JobILove
JOVE is a Lean In Circle about the JobILove based in Milan, that empowers women to achieve their ambitions on every stage of their professional lives.
Every 3rd Monday of the month we meet to learn, discuss and grow together in the following areas of development: OwnYourPassion • LandTheJove • BreakTheCeiling. Women are asking for more, stepping outside their comfort zones, and leaning in together with men thanks to LeanIn.Org
Join our Facebook Group here: https://www.facebook.com/groups/jovecircle
Follow all the activities and subscribe to the newsletter here: http://eepurl.com/gCr2ab
Discover more through Lean In Azione, the Italian network/chapter coordinating all the activities and circles.
Jove • A Lean In Circle about the JobILove
JOVE is an independent organization, affiliated with LeanIn.Org, which works closely with Lean In to further its mission, and is licensed by LeanIn.Org to use the "Lean In" name.
Spiacenti, non è presente nessun evento imminente