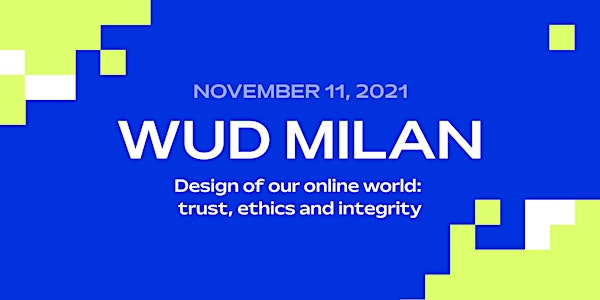 WUD Milan 2021 - Design of our Online World: Trust, Ethics and Integrity
WUD Milan 2021 - Design of our Online World: Trust, Ethics and Integrity
About this event
This year our speakers will lead us to better understand the complexity of these transformational times. How do we create trust in the digital environment? How do we design to improve people's everyday life?
Usually, it takes place in Milan, however, as you can imagine, under these uncertain times we prefer to host an online event the 2021 edition of WUD Milan.
Go to www.wudmilan.it to check out all the information you need to know about this edition.
The ticket is free, so make some space in your calendar and join us!
Find out our program (timezone CET):
09.15 AM - Welcome
10.15 AM - Derek Jones - The Open University, Senior Lecturer in Sustainable Design
11.00 AM - Bradley Gabr-Ryn - MetaLab, Design Lead
11.30 AM - Coffe break
11.45 AM - Donata Columbro - Dataninja, Co-founder
12.30 PM - Trine Falbe - Head of Innovation at Smart Academy, Entrepreneur and UX designer at Falbe UX Consult
1.15 PM - Lunch break
3.15 PM - Marco Buonvino - Poste Italiane, UX / Service Design Lead at Poste Italiane
4.00 PM - Matteo Mucci - Sketchin, Strategy Director
4.45 PM - Coffe break
5.00 PM - Claudio Guglieri - Huge, Group Creative Director
5.45 PM -Reginé Gilbert - New York University, Industry Assistant Professor and UX Designer
6.30 PM - Matt May - Adobe, Head of Inclusive Design
7.15 PM - Wrap-up