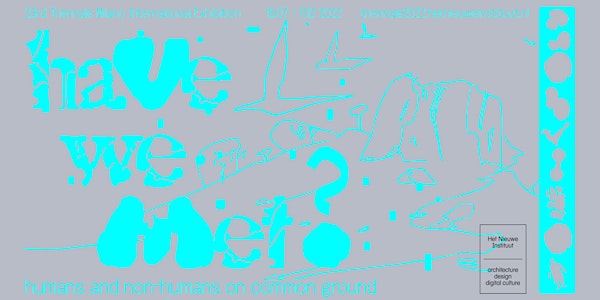 Working on common ground - Closing conference
Workin on common ground / Closing conference – Have we met?
When and where
Location
Triennale Milano 6 Viale Emilio Alemagna 20121 Milano Italy
About this event
If design can help us to counter the ongoing ecological devastation of the earth, and can support the cultivation of mutually supportive relations between humans and non-humans, this should inform not only the cultural imagination, but also governmental policies, legal frameworks, and broader social infrastructures.
The Working on Common Ground conference takes its starting point in Have we met?, the Dutch contribution to the 23rd Triennale Milano International exhibition. In Working on Common Ground, Het Nieuwe Instituut, who put the exhibition together, collaborates with cheFare, agency for cultural transformation from Milan. The conference investigates the Dutch and Italian environments to discover both overlapping characteristics and location-specific aspects of two ecological realities and explores the potential for fostering multispecies communities. The conference was preceded by two workshops that took place on 20th September in Chiaravalle at Terzo Paesaggio and on 18th October at the Orto Botanico di Brera. Both were significant and participatory moments of encounter, exchange, and reflection led by Dutch researchers and artists to discuss the various aspects of relations between human and non-human actors and to gain direct and practical experience of them. But also to share and discuss experiences, visions, and practices with the community of Italian activists and practitioners.
The dominant agricultural practices of the Netherlands and northern Italy serve as an extreme example of how human and non-human relations have become fraught in industrialised economies. Industrial pig and poultry farms sustain extremely cost-efficient and exploitative conditions for living beings on the inside and create harmful conditions for life in their surrounding areas as well. At the same time, newly created natural reserves (like the Marker Wadden) in the Netherlands and projects in Italy (Life Wolfalps EU) demonstrate the Dutch and Italian capability for actively including the needs of non-human life.
The exhibition and programme of Have we met? take the Zoöp organisation model as their reference frame. Zoöp is short for Zoöperation, a cooperation with zoë (Greek for 'life'). The Zoöp model helps organisations to learn how they can collaborate with the ecosystems they participate in and how they can become symbiotic bodies that contribute to ecological regeneration. Exploring a range of collaborative tools developed by practitioners across art, design, agriculture, data- and marine sciences, Have we met? probes a foundation from which to organise the common ground of a multispecies society. The programme Working on Common Ground expands on what is on show by exploring the sensitivities, organisational tactics, legal and policy strategies required to foster multispecies communities. It looks into the possibility of Zoöperations in the Italian context and at design's role in their development.
Moderated by Tara Lewis
Speakers:
Caterina Benincasa (IT) – Curator JRC SciArt project, European Commission
Christiane Bosman (NL) – Director communications & public programme Embassy of the North Sea
Carolijn Terwindt (NL) – Lawyer, activist, and artist Embassy of the North Sea
Joost Emmerik (NL) – Garden and landscape architect
Marianna Frangipane (IT) – Architect and researcher, Terzo paesaggio
Klaas Kuitenbrouwer (NL) – Researcher, Het Nieuwe Instituut in Rotterdam
Laura Scillitani (IT) – Communication manager Muse Trento
Stefano Maffei (IT) – Professor, Politecnico di Milano
Fiona Middleton (UK) – Researcher of TBA21– Academy's inaugural Ocean Fellowship
Bertram Niessen (IT) – Director cheFare
Maike van Stiphout (NL) – Director DS Landscape Architects
Giovanni Bellotti (NL) – Architect, Studio Ossidiana
Nicoletta Tranquillo (IT) – Co Founder, Kilowatt
Het Nieuwe Instituut collaborates with cheFare to create the programme connected to Have we met?
With the support of the Embassy and the Consulate General of the Kingdom of the Netherlands in Italy.