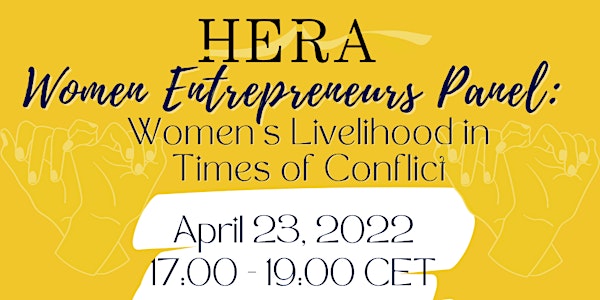 Women's Livelihoods in Times of Conflict
Women entrepreneurs from five countries share their firsthand experiences and insights
About this event
HERA has supported programs for women entrepreneurs in Armenia, Georgia, Moldova, and Ukraine for over a decade. HERA's first entrepreneurship program opened in Serbia following the conflicts in the Balkans in 2005. Since that time, HERA has supported women entrepreneurs, who continue to work in the midst of conflicts in Armenia, Georgia, and currently Ukraine, and under the threat of conflict in Moldova. Caught in open warfare, some grantees have had to flee internally and/or across international borders. Several have restarted livelihoods and businesses in their own countries and/or migrated and started anew. The current conflicts in Ukraine and Armenia have not only affected all of HERA's grantees in those two countries but have had repercussions for the whole region. In this panel, women entrepreneurs from the five countries share their firsthand experiences and insights to provide a frank assessment of what is necessary and possible to continue livelihoods in face of war and conflict.
Paul Stekler, political documentary filmmaker, news commentator, communications professor at the University of Texas, and HERA USA Board Member will moderate the panel
-----------
HERA Team is inviting you to a scheduled Zoom meeting.
Topic: HERA: Women's Livelihoods in Times of Conflict
Time: Apr 23, 2022 11:00 AM Eastern Time (US and Canada)
Join Zoom Meeting
https://us06web.zoom.us/j/81261954465?pwd=YUpiTW5sdTdrVUhxTXZjdWFrUlpPZz09
Meeting ID: 812 6195 4465
Passcode: 817627
One tap mobile
+13017158592,,81261954465#,,,,*817627# US (Washington DC)
+13126266799,,81261954465#,,,,*817627# US (Chicago)
Dial by your location
+1 301 715 8592 US (Washington DC)
+1 312 626 6799 US (Chicago)
+1 646 558 8656 US (New York)
+1 253 215 8782 US (Tacoma)
+1 346 248 7799 US (Houston)
+1 720 707 2699 US (Denver)
+1 438 809 7799 Canada
+1 587 328 1099 Canada
+1 647 374 4685 Canada
+1 647 558 0588 Canada
+1 778 907 2071 Canada
+1 780 666 0144 Canada
+1 204 272 7920 Canada
+33 1 7037 2246 France
+33 1 7037 9729 France
+33 1 7095 0103 France
+33 1 7095 0350 France
+33 1 8699 5831 France
+49 69 5050 0952 Germany
+49 695 050 2596 Germany
+49 69 7104 9922 Germany
+49 69 3807 9883 Germany
+49 69 3807 9884 Germany
+49 69 5050 0951 Germany
+36 1 408 8456 Hungary
+36 1 701 0488 Hungary
+36 1 779 9126 Hungary
+995 7067 77954 Georgia
+995 3224 73988 Georgia
+44 203 481 5237 United Kingdom
+44 203 481 5240 United Kingdom
+44 203 901 7895 United Kingdom
+44 208 080 6591 United Kingdom
+44 208 080 6592 United Kingdom
+44 330 088 5830 United Kingdom
+44 131 460 1196 United Kingdom
+32 2 588 4188 Belgium
+32 2 788 0172 Belgium
+32 2 788 0173 Belgium
+32 1579 5132 Belgium
+32 2 290 9360 Belgium
+32 2 585 5574 Belgium
+41 43 210 70 42 Switzerland
+41 43 210 71 08 Switzerland
+41 44 529 92 72 Switzerland
+41 22 591 00 05 Switzerland
+41 22 591 01 56 Switzerland
+41 31 528 09 88 Switzerland
Meeting ID: 812 6195 4465
Passcode: 817627
Find your local number: https://us06web.zoom.us/u/krufoObGZ