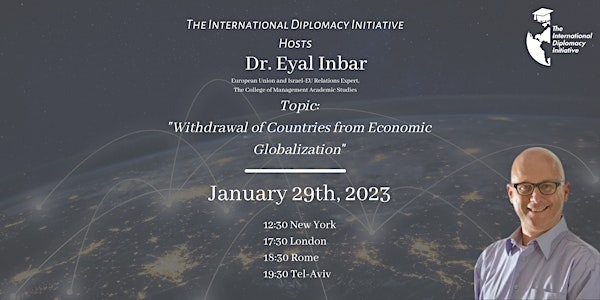 Withdrawal of Countries from Economic Globalization
The International Diplomacy Initiative presenting: "Withdrawal of Countries from Economic Globalization" by Dr. Eyal Inbar
About this event
Globalization refers to the integration of economies, societies, and cultures across the world through increased communication, transportation, and trade. In the 20th century globalization accelerated with the growth of international trade, investment and migration, driven by technological advances such as the airplane travel, internet, the liberalization of trade, and other geo-political factors. However, since the early 2000s, there has been a growing sentiment against globalization due to its effects on job displacement, increased inequality, and concerns on cultural homogenization.
Some scholars and analysts point to rising nationalism, protectionist trade policies, and the decrease of international trade and travel (mostly due to COVID-19), as indicators that globalization is declining. And yet, some aspects of globalization seem to continuously grow, such as digitalization and e-commerce. So which is it - are we heading towards more globalization or less?
Join us on January 25th for The International Diplomacy Initiative's Online Global Event: "Withdrawal of Countries from Economic Globalization" With guest speaker Dr. Eyal Inbar.
Dr. Eyal Inbar holds a PhD in International Relations from the Hebrew University of Jerusalem and specializes in combining economics and politics. He is an Economic & Trade Affairs Manager, Delegation of the European Union – Israel. Where he deals with a vast array of economic and trade issues. He is an expert with extensive practical experience in the EU, the diplomatic and economic relations between Israel and the EU, and the political aspects of EU enlargement. He is a member of the Israeli Association for the Study of the European Integration since its inception and a member of its Board of Directors for several years. He was also a member of the board of directors of the Central Civil Administration of Small and Medium Business Authority from its establishment until its closure.
Dr Inbar is an experienced lecturer, who taught in the Hebrew University, Tel-Aviv University, The College of Management Academic Studies Rishon LeZiyyon, and as a guest lecturer in various other institutions in both Israel and the EU.