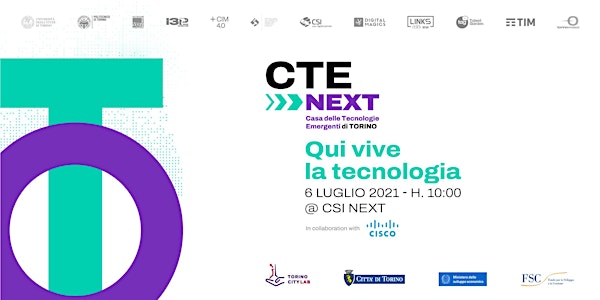 Virtual kick off CTE NEXT
Virtual Kick off - Casa delle Tecnologie Emergenti di Torino
About this event
Il Progetto CTE NEXT – LA CASA DELLE TECNOLOGIE EMERGENTI DI TORINO
L'obiettivo di CTE NEXT è quello di realizzare a Torino, in stretta collaborazione con i 12 Partner di progetto, un centro di trasferimento tecnologico diffuso sulle tecnologie emergenti legate al 5G in settori verticali strategici per il territorio.
Il tutto creando un ambiente attrattivo e generativo per start-up e PMI provenienti anche dall'estero, nel più ampio quadro di "Torino City Lab", la politica di innovazione della Città di Torino.
Per raggiungere questo obiettivo, CTE NEXT oltre a mettere a disposizione luoghi e asset per la ricerca applicata e il testing realizzerà momenti di formazione, eventi e opportunità di connessione tra gli attori dell'ecosistema.
Per maggiori informazioni: https://bit.ly/2SQYINu
******************************************************************
CTE NEXT Project - TURIN HOUSE OF EMERGING TECHNOLOGIES
The goal of CTE NEXT is to create in Turin, in close collaboration with the 12 project partners, a technology transfer center spread on emerging technologies related to 5G in strategic vertical sectors for the territory.
All this creates an attractive and generative environment for start-ups and Smes from abroad, in the wider framework of "Torino City Lab", the innovation policy of the City of Turin.
To achieve this goal, CTE NEXT will not only provide places and assets for applied research and testing, but will also provide opportunities for training, events and networking between ecosystem actors.
More info available here: https://bit.ly/2SPiCIF
L'EVENTO DI LANCIO
L'evento sarà anzitutto l'occasione per lanciare il progetto CTE NEXT e presentare CSI NEXT, vero e proprio centro di trasferimento tecnologico sul 5G e nodo centrale della "Casa delle Tecnologie emergenti di Torino, situato in Corso Unione Sovietica 214 a Torino.
Più in generale, l'obiettivo è quello di presentare il progetto tramite il racconto delle sue componenti tecnologiche e non, lanciando i futuri servizi per le imprese (start-up e PMI), per il territorio ed altre PA.
Il ruolo degli ecosistemi locali dell'innovazione per promuovere la nascita e lo sviluppo di imprese innovative sarà affrontato con approcci diversi nel confronto con key-note speaker di rilievo internazionale.
La tecnologia sarà un ingrediente del programma e consentirà di approcciarsi in maniera concreta ed interattiva con il potenziale del 5G e delle tecnologie emergenti.
L'evento è organizzato dal Comune di Torino, in collaborazione con i 12 partner di progetto e sarà realizzato con il supporto tecnico di Cisco Italia.
Gli interventi saranno in lingua originale Italiano od Inglese e non è prevista la traduzione.
Per consultare il programma: https://bit.ly/3qnQsRn
****************************************************************************************
THE LAUNCH EVENT
The event will first of all be an opportunity to launch the CTE NEXT project and present CSI NEXT, a true 5G technology transfer center and main local venue of "Turin House of Emerging Technologies", located in Corso Unione Sovietica 214 in Turin.
More in general, the goal is to present the project through the descriprion of its technological and non-technological components as well as to launch future services for companies (start-ups and SMEs), for the territory and other Pas in Italy and beyond.
The role of local innovation ecosystems to promote the birth and development of innovative companies will be addressed with different approaches thanks to a vibrant debate with key-note speakers of international standing.
Technology will be an ingredient of the program and will allow for a concrete and interactive approach to the potential of 5G and emerging technologies.
The event is organized by the Municipality of Turin, in collaboration with the 12 project partners and will be carried out with the technical support of Cisco Italy.
The interventions will be either in Italian or English language no translation is foreseen.
Discover the program: https://bit.ly/35ZOLQu