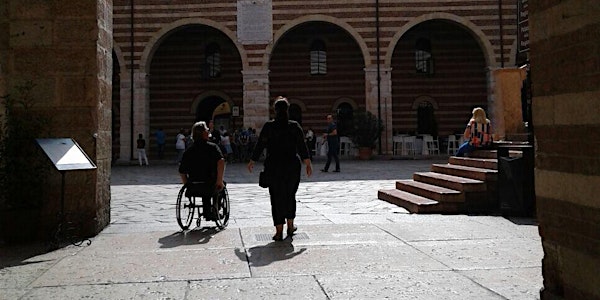 Multiple dates
Verona Free Accessible Tour
Free Accessible Tour Verona
Date and time
Fri, 1 Jun 2018 14:00 - Tue, 12 Sep 2023 12:00 CEST
Location
Arco dei Gavi Arco dei Gavi Corso Cavour 37121 Verona Italy
About this event
ENGLISH
Our "free-tours" concept are based solely on donations.
During the ongoing CORONAVIRUS situation, our tours must be confirmed directly with your guide.
Without direct confirmation, the tour will not take place.
Please confirm your participation contact your guide via WhatsApp.
TUESDAY call Carolina +39 345 813 8373
FRIDAY call Davide +39 329 766 0086
IN THIS TOUR WE WILL VISIT:
Castelvecchio, Piazza Bra, Porta Borsari, Piazza Erbe, Piazza dei Signori, Arche Scaligere, Ponte Pietra e Duomo.
THE MEETING POINT IS:
Arco dei Gavi, where you will find us with the JMwalkingtour sign.
TOURS START:
TUESDAY - FRIDAY at 10:00am
lasts 2 hours in average and ends near Ponte Pietra.
Your arrival 15 minutes before it starts will allow the tour depart on schedule.
The tour always starts on time and there is no waiting for late arrivals.
COVID-19 Safety measures for all promoted activities:
Tour tickets will be provided in digital format only to limit physical contact.
The guide will wear gloves and masks when needed.
Guests are encouraged to bring their own masks.
Guests will be required to provide personal data (name, phone number) for contact tracking purposes.
Hand sanitiser will be available at all meeting and stopping points.
Where possible, soap, hot water and paper towels will also be available at break points.
The breaks will be reduced, with a limit on the number of guests who can enter each break location at any given time.
Smaller groups will allow us to ensure that adequate social distance can be maintained between guests.
Tour group photos will no longer be taken.
Guides can also provide additional region-specific guidelines during their welcome talks.
JMwalkingtour is a project by JM/aps no-profit Association which works to render Venice sustainable and accessible to all, believes in the values of humanity and in multicultural wealth and strives assiduously to facilitate the daily life of disabled people in the context of preserving the architectural patrimony of the city.
The aim of JM project is fundraising for our Association, many thanks for your support.
ITALIANO
Il nostro modello di "free-tour" è basato esclusivamente su donazioni.
Nel periodo di emergenza CORONAVIRUS, la tua presenza deve essere confermata alla guida tramite messaggio whatsapp.
In mancanza di conferma la tua partecipazione non sarà garantita.
Conferma in anticipo la tua presenza alla guida contattala via whatsapp.
MARTEDÌ, contatta Carolina +39 345 813 8373
VENERDÌ, contatta Davide +39 329 766 0086
IN QUESTO TOUR VISITEREMO:
Castelvecchio, Piazza Bra, Porta Borsari, Piazza Erbe, Piazza dei Signori, Arche Scaligere, Ponte Pietra e Duomo.
IL PUNTO DI INCONTRO È:
Arco dei Gavi, dove ci troverai ad attenderti con il cartello JMwalkingtour.
IL TOUR PARTE:
MARTEDÌ - VENERDÌ alle 10:00
dura circa 2 ore e finisce vicino al Ponte Pietra
Presentati con 15 minuti di anticipo per permettere la partenza del tour in orario.
Il tour parte sempre in orario e non aspettiamo ritardatari.
COVID-19 Misure di sicurezza per le attività promosse:
I biglietti del tour verranno forniti solo in formato digitale.
La guida indosserà guanti e mascherine.
Gli ospiti dovranno portare le proprie mascherine.
Gli ospiti saranno tenuti a fornire i dati personali (cognome, nome, numero di telefono, eccetera) a scopo di tracciamento sui contatti.
Il disinfettante per le mani sarà disponibile in tutti i punti di incontro.
Ove possibile, nei luoghi di pausa saranno disponibili anche sapone, acqua calda e asciugamani di carta.
Le pause saranno ridotte al minimo necessario per permettere agli ospiti di alternarsi ai servizi igienici.
Gruppi più piccoli ci consentiranno di garantire un'adeguata distanza sociale tra gli ospiti.
Le foto di gruppo del tour non verranno più scattate.
In funzione alle ordinanze Regionali, le guide potranno fornire ulteriori linee guida durante il discorso di benvenuto.
JMwalkingtour è un progetto dell'Associazione JM a.p.s. no-profit che lavora per rendere Venezia sostenibile e accessibile a tutti, crede nei valori dell'umanità e nella ricchezza multiculturale e si impegna assiduamente per facilitare la vita quotidiana delle persone disabili nel rispetto del patrimonio artistico-architettonico della città.
Lo scopo del progetto JMwalkingtour è la raccolta fondi a favore della nostra Associazione, grazie in anticipo per il vostro supporto.