Description
Le aziende registrano un peggioramento nei pagamenti. Se, oltre a questo, debitori importanti vanno in bancarotta, la situazione finanziaria o addirittura la sopravvivenza delle stesse sarà presto in grave difficoltà.
Le vostre aziende hanno bisogno di soluzioni ad azione immediata per continuare ad essere competitive e di successo.

La gestione professionale del Credito deve essere considerata una priorità. Trattare il rischio del Credito in maniera professionale, assicura che la vostra liquidità aumenti e che il rischio di perdita da Crediti insoluti diminuisca.
Affidarsi ad una Società di Assicurazione del Credito, comporta comunque la necessità di dimostrare capacità di gestione efficace del Credito.
Su questi argomenti si confronteranno esperti al convegno organizzato da Morgan & Morgan per il prossimo 16 maggio alle ore 16.00.

Il Convegno è aperto a tutti e la partecipazione è gratuita.
---
PROGRAMMA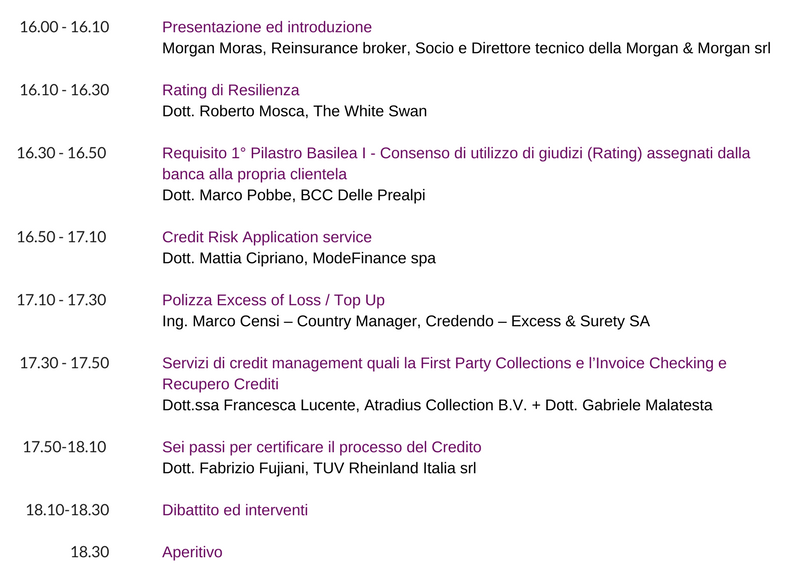 ---
RELATORI
Morgan Moras: Reinsurance broker, Socio e Direttore tecnico della Morgan & Morgan srl. Master Cineas in Bank and Insurance Financial risk management. Componente del CdA di Casbi.
Roberto Mosca: Laureato in economia e commercio, ha maturato 20 anni di esperienza professionale in PMI e "Corporate. E' dottore commercialista, revisore contabile, CTU per il Tribunale Civile di Milano e

a

mministratore di The White Swan

.
Marco Pobbe: Dottore in Economia Aziendale, lavora nel mondo bancario cooperativo da circa 20 anni e attualmente si occupa di risk management in Banca Prealpi.
Mattia Ciprian: Laureato in Ingegneria Meccanica ha un Dottorato in Corporate Finance ed è Co-fondatore e CEO di ModeFinance SRL agenzia di rating da 10 anni.
Marco Censi: Laureato al Politecnico di Milano in Ingegneria Civile ha maturato diverse esperienze lavorative sia in Italia sia all'estero (USA). È Country Manager Italia per Credendo Excess & Surety.
Francesca Lucente: Lavora come Senior Sales Representative per la Atradius Collections BV. occupandosi dello sviluppo del portafoglio clienti su base nazionale. Key User Eloqua.
Gabriele Malatesta: Lavora come Executive Sales Account per la Atradius Collections BV. Si occupa di soluzioni di gestione del credito in tutto il mondo.Key Account.
Fabrizio Fujani: Da 15 anni lavora nel mondo della conformità normativa; rappresenta oggi TUV Rheinland multinazionale tedesca leader nel mondo della certificazione di prodotto e dei sistemi di gestione.
---
Per maggiori informazioni :
Eleonora Catania - marketing@morganemorgan.com
MORGAN & MORGAN SRL
Viale Carducci, 4 - 31015 Conegliano (TV)
tel. +39 0438 366311 - fax. +39 0438 366363