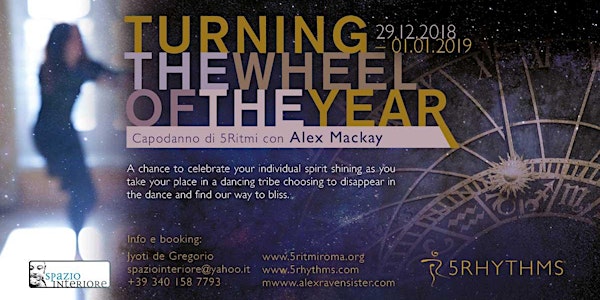 Turning the wheel of the Year - Capodanno 5Ritmi a Roma con Alex Mackay
Event Information
Location
Centro sportivo Pio IX
9 Via di santa Prisca
00178 Roma
Italy
Per celebrare il tuo spirito luminoso con una tribù che danza il passaggio all'anno nuovo. Non sono richieste precedenti esperienze.
About this event
Abbiamo bisogno di un tempo per l'anima, per riflettere, ricaricarci, mentre il nostro ritmo naturale forse in inverno rallenta. I 5Ritmi di Gabrielle Roth creano un percorso danzante in cui noi tutti possiamo avere un contatto dinamico con il mistero divino che è in noi - attraverso la creatività del corpo e la consapevolezza del respiro. Nella nostra pratica cerchiamo fluidità nell'ammorbidirci con il Fluido, chiarezza nel ritmo dello Staccato, libertà nel lasciarci andare al Chaos, delizia nella bellezza del Lirico e pace nella vitalità della Quiete. Quale dei 5Ritmi ti puoi dare doni e intuizioni per passare con presenza e curiosità dalla fine all'inizio del nuovo anno ?
Vediamo filtrare le luci della città attraverso i rami senza foglie e come facevano i nostri antenati mentre fissavano il fuoco, ci connettiamo al calore e alla speranza dei nuovi inizi.
Datti la possibilità di celebrare il tuo spirito luminoso con una tribù che danza mentre scompari nella movimento e riscopri il tuo modo di arrivare alla felicità . Il workshop è aperto a tutti: non sono previsti prerequisiti
Alex Mackay
Danzatrice e artista insegna a livello internazionale i livelli Waves, Heartbeat e God Sex and the Body. Alex ha iniziato a danzare i 5ritmi a 22 anni, e su indicazione di Gabrielle Roth ha potuto subito insegnare, G. Roth aveva come spirito guida il Corvo (Raven) e la chiamava Raven Sister. Vive in Galles e ha dato vita a fiorenti comunità di danzatori in Inghilterra. E' nota per il suo insegnamento leggero e profondo, ama danzare insieme al gruppo, usa poche parole scelte con cura ispirando un senso di meraviglia e magia, ed è corporea, energetica e creativa.
Vieni a onorare il passato, celebrare il momento, e accogliere il futuro, scegli una di queste opzioni :
Tutto il workshop
solo 29 e 30 dicembre
solo 31 dicembre e 1 gennaio
solo 31 dicembre dancing capodanno
Date and time
Location
Centro sportivo Pio IX
9 Via di santa Prisca
00178 Roma
Italy