Description
Bologna, 8th – 9th June 2020. Training from the BACK of the Room. Trainer: Teri Frith
In this high energy, practical and memorable course written by Sharon Bowman, you'll explore current "cognitive neuroscience" that explains how the human brain really learns.
Toss out outdated assumptions, pull in six specific learning principles based on current brain science, and learn how to apply them to your training programs.
Leave with dozens of new ideas, activities, and resources to enhance what you already know about brain-based learning and training.
Program
Day 1
Connection activities (to other learners, to content and to learning outcomes)
Setting up for success
Trainers toolkit - added to throughout the day
The Six Trumps - six learning principles based on brain science
Myths and facts about how humans learn
Using concept centres as an instruction method
Application of the "trainer's toolkit" and brain science principles
Conclusion activities (summarising and reflecting on the learning, action plans)
Day 2
Cognitive Dissonance, Reticular Activating System and the Triune Brain
Introduction to Accelerated Learning and the 4Cs - design and delivery model
General design and delivery reminders
Creating a 4Cs map - first draft
Practical task - design your own training session (application of the 4Cs map and toolbox strategies to specific training topics)
Conclusion activities (reflecting on the learning, action plans, celebration).
What you will learn
Join Teri Frith and learn about six learning principles based on current brain research, and how to apply these in your training.
You will also explore the 4Cs Map – a powerful 4-step instructional design and delivery model – and use it to create your own training plan specific to a topic you teach.
You will collect a multitude of new ideas, activities, and resources throughout the course, which can be put into practice the very next day.
During the class, you will practise six powerful learning principles based on the best of brain science, then you apply these principles every time you train, teach, or coach others.
You will collect dozens of interactive instructional strategies you can use with any topic and any group of learners.
You also receive a 55-page resource workbook that is only available with this program, as well as copies of Sharon Bowman's best-selling books: "Training from the BACK of the Room!" and "Using Brain Science to Make Training Stick."
Target Audience
The "Training from the BACK of the room" workshop is suitable for teachers, facilitators and coaches, as well as scrum masters and project managers. People with some experience of delivering training will get the most out of this course.
Requirements
Prior to joining the workshop, you will be asked to complete three short pre-course tasks:
3 weeks before - questionnaire to complete about your experience and intended learning outcomes from the course
2 weeks before - suggested reading to introduce some of the brain science principles
1 week before - joining the TBR slack community.
The course builds on your existing knowledge of how humans learn, so the pre-course reading is highly recommended and will be referred to in one of the learning activities.
F.A.Q.
Confirmation: Is the workshop guaranteed to run?
No, the workshop will be confirmed upon reaching a minimum number of participants. All registered participants will be notified by email no later than one month prior to the workshop date.
Tools & Laptop: Do I need my laptop?
Laptops are not required - you will be provided with a participant workbook and flip chart paper during the course.
Entry requirements: Is there anything I need to do before the workshop?
Yes - see above. You will be sent three pre-course tasks to complete in the three weeks leading up to the workshop.
Materials: Will there be any materials to take away?
Yes - you will receive a participant workbook and copies of Sharon Bowman's best-selling books: "Training from the BACK of the Room!" and "Using Brain Science to Make Training Stick"... so remember to leave some room in your suitcase!
Teaching language: What language will this workshop be in?
English.
Timings: What time does the workshop start at?
The workshop will start at 9.30am each day, and it will finish at 5.30pm each day.
Venue: What's the training venue, and how do to get there?
Camplus Bononia (Via Sante Vincenzi, 49/51, Bologna).
Find out how to get to the Camplus Bononia at the Camplus Bononia Info Page.
Extra: What's included in the ticket price? Is there a dress code?
Two coffee breaks and lunch with the trainer and the other attendees are also included in this ticket... because networking matters :-)
The dress code is informal.
Got questions? Drop us a line: info@avanscoperta.it
Link to the website.
Trainer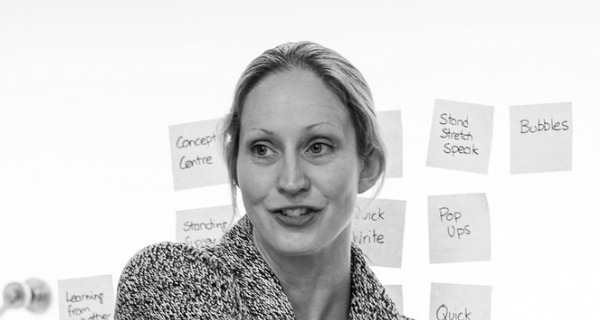 Teri Frith
Where
Camplus Bononia, Via Sante Vincenzi, 49/51, 40138, Bologna (Italy).

When
8th - 9th June 2020, from 9.30am to 5.30pm.
Payment
PayPal, Credit Cards, or Bank Transfer via info@avanscoperta.it
Under_Cover_Learner Discount - SAVE 20%
If you're paying the ticket out of your own pocket and you don't have a VAT number, you can get a 20% discount on any tickets and on any ticket tiers!
How? Just enter the Under_Cover_Learner promotional code in the registration field on Eventbrite.
Please note: This code cannot be used in conjunction with any other offers/discount codes, and it applies to any ticket tier.
Doubts? Questions? Drop us a line: info@avanscoperta.it
We accept the following methods of payment:
PayPal, Credit/Debit card (via PayPal, click on the link: "Don't have a PayPal account?"), Bank transfer (upon request - contact us at info@avanscoperta.it).
T&C, Privacy Policy, cancellations and refunds, Venue info
Find out more at this link.