Dit evenement is afgelopen.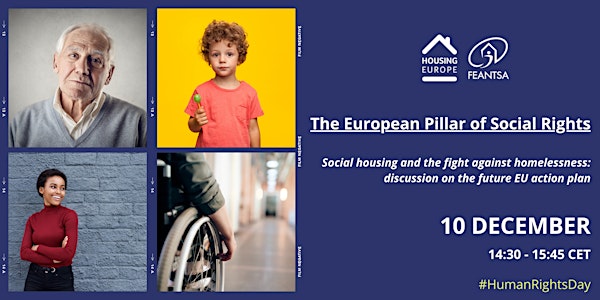 Online webinar
The European Pillar of Social Rights, social housing and the fight against homelessness: discussion on the future EU action plan
Door Organised by Housing Europe, UNECE & UN-Habitat
Datum en tijd
do. 10 dec. 2020 05:30 - 06:45 PST
Over dit evenement
 Moderator 
Jorge Valero, Editor 'Economy and Jobs' at Euractiv
 Panellists 
Kim van Sparrentak, Member of the European Parliament, the Greens
Dominique Bé, Disability & Inclusion, DG EMPL, European Commission
Council of Europe Development Bank Representative
Susanne Bauer, Chair of Eurocities WG on Housing
 Conclusion 
Freek Spinnewijn, Director of FEANTSA
Sorcha Edwards, Secretary-General of Housing Europe 
Over de organisator
#Housing2030 is an initiative of Housing Europe, UNECE and UN-Habitat.
It aims to shows how policy makers can improve affordable housing outcomes and at the same time play a constructive role in addressing ongoing climate change and stimulate the social and economic recovery now demanded by the pandemic.
#Housing2030 also provides a 'tool kit' rather than a universal 'blueprint', to respond to the different and changing demands of member states and regions.