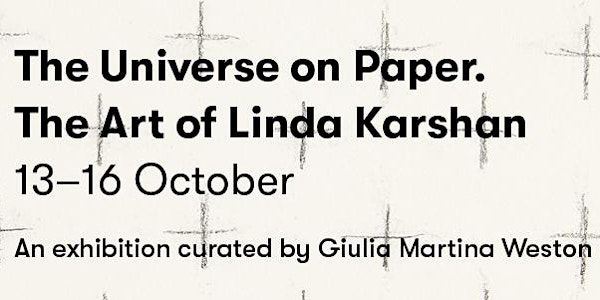 The Universe on Paper. The Art of Linda Karshan
This exhibition displays a fine selection of the works produced by distinguished artist Linda Karshan during various stages of her career.
When and where
Location
Domus Comeliana 48 Via Cardinale Pietro Maffi 56126 Pisa Italy
About this event
Questa mostra presenta un'elegante selezione di opere realizzate dalla celebre artista Linda Karshan, appartenenti a diverse fasi della sua carriera. Nata a Minneapolis (Minnesota) nel 1947, Linda Karshan ha studiato presso lo Skidmore College, a Saratoga Springs, nello Stato di New York, tra il 1965 ed il 1966, sotto la guida dell'architetto Robert Reed, allievo di Josef Albers (1888-1976), uno dei membri fondatori della Bauhaus, nonché, da emigrato, uno dei protagonisti dell'Astrattismo Geometrico in America.
I successivi studi di Karshan presso la Sorbona di Parigi, la Slade School of Art di Londra e la sede londinese dell'Antioch Centre for British Studies, hanno ulteriormente consolidato la sua conoscenza della storia dell'arte, soprattutto dell'arte del Rinascimento, e della psicologia. Di grande rilevanza è la tesi di laurea dell'artista, Play, Creativity and the Birth of the Self, incentrata sulle teorie di Donald W. Winnicott in merito allo spazio transizionale e alla creatività individuale, concetti destinati ad avere un ruolo centrale nella prassi artistica di Karshan.
Nel 1994 Linda Karshan ha messo a punto un metodo di produzione grafica di carattere performativo. Guidata da ciò che ella stessa ha definito la propria 'coreografia interiore', l'artista, in piedi di fronte al tavolo di lavoro, disegna a mano libera, utilizzando la mano destra pur essendo mancina. Sporgendosi in avanti con la mina di grafite, solleva leggermente la gamba sinistra, sbilanciandosi come una ballerina in arabesque e tracciando una linea al ritmo 1-2, 3-4, 5-6, 7-8. Di seguito, ripercorre il segno e gira il foglio di 90 gradi in senso antiorario. Liberato, o – meglio – trovato in tal modo, il repertorio figurativo di Karshan, fatto di linee che si intersecano, di forme geometriche e di segni organici, trae origine dal ritmo del respiro dell'artista, dalla rotazione in senso antiorario del foglio, e dai moti del corpo e della mente.
Questa rassegna intende ripercorrere l'itinerario artistico di Linda Karshan attraverso decadi cruciali nella sua carriera, presentando una selezione che prende avvio da una grande opera del 1983 e culmina in una raccolta di disegni del 2021, creati durante la pandemia di Covid-19. Tutti i pezzi in mostra sono realizzati su carta e documentano la straordinaria coerenza del repertorio di forme adottato da Karshan – in particolare dell'elemento costruttivo della griglia, sia essa manifesta o implicita – nonché la ricorrenza di motivi pressoché geometrici, come il cerchio, il quadrato ed il rombo.
Il corpus di opere di Karshan riflette una serie di temi squisitamente umanistici, come il rapporto tra micro e macrocosmo, la dialettica tra gravità e grazia, ed un'interpretazione del corpo come misura dell'universo. Grazie all'allestimento nella prestigiosa sede della Domus Comeliana di Pisa – nella prima mostra ospitata dall'Istituzione– le opere di Karshan si fanno testimonianza dell'umanesimo contemporaneo.
This exhibition displays a fine selection of the works produced by distinguished artist Linda Karshan during various stages of her career.
Born in Minneapolis (Minnesota) in 1947, Linda Karshan was educated at Skidmore College, Saratoga Springs, New York, from 1965 to 1966, under the tuition of the architect Robert Reed, a pupil of Josef Albers (1888-1976), a founding member of the Bauhaus. As an émigré, Albers was a protagonist of Geometrical Abstract painting in America. Karshan's subsequent studies at the Sorbonne in Paris, the Slade School of Art in London and the London-based Antioch Centre for British Studies, London deepened her expertise in art history, especially Renaissance Art, and in psychology. Notably, her MA thesis of 1983, entitled Play, Creativity and the Birth of the Self, focused on Donald W. Winnicott's theories of transitional space and creativity, which are central to Karshan's artistic practice.
In 1994, Linda Karshan developed a performance-based method to bring her drawings into existence. Guided by what she has termed her 'inner choreography', the artist draws freehand, standing at a table, and, despite being left-handed, uses her right. As she reaches forward with her graphite pencil, her left leg rises up naturally, so she balances like a ballerina in an arabesque and draws a line to a rhythm of 1-2, 3-4, 5-6, 7-8. She then goes back over it, and makes a 90-degree anticlockwise turn of the paper. Thus freed, or - better – found, Karshan's iterative images of intersecting lines, geometrical shapes and organic patterns stem from her rhythmic breathing, her anticlockwise turn of the paper, and the motion of her entire body and mind.
The show aims to shed light on the path pursued by Linda Karshan over several crucial decades of artistic output by presenting a selection starting from a large work of 1983 and culminating in a suite of drawings of 2021, created during the Covid-19 pandemic. All the pieces presented are on paper, and testify to the consistency of Karshan's personal marks – particularly the constructive element of the grid, either manifest or implied – and the recurrence of seemingly geometrical patterns such as circles, squares or lozenges.
Karshan's oeuvre naturally resonates with chiefly humanistic preoccupations such as the relationship between micro and macrocosms, the dialectics of gravity and grace, and an understanding of the body as measure of the universe. Displayed in the prestigious venue of the Domus Comeliana in Pisa – in the first exhibition hosted by the Institutio Santoriana – Fondazione Comel – Karshan's works become a testament to contemporary humanism.