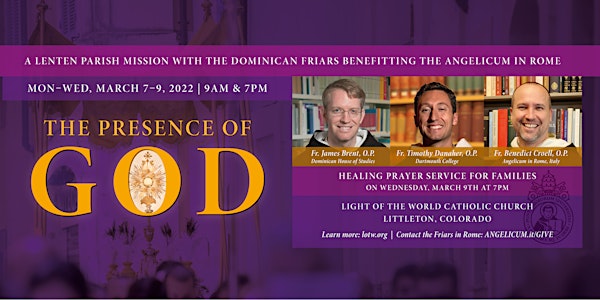 THE PRESENCE OF GOD: Lenten Mission with the Dominicans - Littleton CO
A Lenten Parish Mission with the Dominicans to help you and your family to see the Presence of God in your lives. JOIN US!
About this event
March 7-9, 2022
VISITING PRIESTS:
Fr. James Brent, O.P. - Professor of Philosophy at the Dominican House of Studies in Washington, D.C. (contributor to the Aquinas 101 project)
Fr. Timothy Danaher, O.P. - Former Light of the World director of Youth Ministry, current Chaplain of Dartmouth College in Hanover, N.H.
Fr. Benedict Croell, O.P. - Director of Development and Mission Advancement at the Angelicum in Rome, Italy
Saturday-Sunday, March 5-6
The visiting Dominican Friars will preach at all the weekend Masses: Saturday at 4:30 pm, Sunday at 8:00 am, 10:00 am and 12:00 pm
Monday-Wednesday, March 7-9
The Mission talks begin. See details below.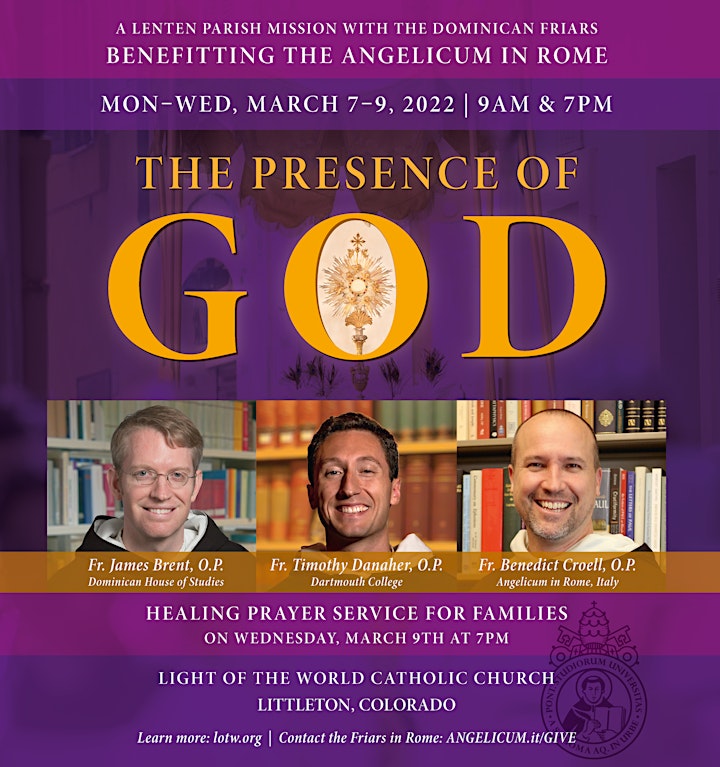 Prepare for the Sacrament of Reconciliation with an EXAMINATION of CONSCIENCE (PDF) written by Friars
DAILY SCHEDULE for the MISSION (Monday-Wednesday):
8:00 am Confessions begin
8:30 am Mass
9:00 am Mission Talk* with confessions until done
[Wednesday ONLY] 5:30 pm Mass
6:30 pm Confessions begin
7:00 pm Mission Talk* with Eucharistic Adoration - (exposition / benediction) with confessions until done
*morning / evening sessions are the SAME (attend one or the other)
TOPICS for each day:
Monday, March 7 - DIVINE PROVIDENCE - "In everything God works for good for those who love Him" (Romans 8:28)
Tuesday, March 8 - THE DIVINE INDWELLING - The Lord lives in the tabernacle of our souls!
Wednesday, March 9** - HIS REAL PRESENCE in the gift of the Holy Eucharist
** On Wednesday evening there will be a Eucharistic healing prayer service for families. (Additional Wednesday Confessions 4:15 pm – 5:15 pm and daily Masses 8:30 am & 5:30 pm)
SIGNUP ABOVE - to prepare for the Mission (and to keep in touch w/FRIARS)
This Parish Mission will help you and the families of your parish to see the Presence of God in your lives. The Lord is at work, but we frequently fail to see or even notice Him.
Description Mission (PDF)
We the Dominican friars want to reach out, in particular, to all the men of your parish, to lift them up in their vocation as husbands and fathers, and to bring special healing and blessings to all families.
You do not need to be Catholic to participate! This mission will also be an opportunity for evangelization for your parish and local community, a chance to reach out to anyone whom you would like to personally invite who may have a special need for healing or God's Mercy.
Everywhere the Dominicans have preached this mission, we have seen tremendous graces and blessings! Why? Because it is the Lord who touches hearts through His Real Presence in the Blessed Sacrament.
The Dominican Friars look forward to coming and sharing the Grace and Healing of Jesus Christ with each of you and your families!
STAY IN TOUCH WITH ANGELICUM in ROME (after the mission)
FULL POSTER (PDF) - print out and share!
DONATE to Pontifical University of St. Thomas Aquinas in Rome and join us in the mission of formation and proclamation of the Gospel: ANGELICUM.it/give
JOIN in the Parish Mission spiritually ... PRAY 1 OUR FATHER & 1 HAIL MARY for Light of the World Catholic Church in spiritual prep for the Mission. GRAZIE!
LEARN MORE ABOUT THE ANGELICUM in Rome (VIDEO)