Refund policy
Refunds up to 30 days before event
Eventbrite's fee is nonrefundable.
Become part of an exclusive network of experts and facilitators who master the real potential of Platform Design, beyond buzzwords!
About this event
The Online Platform Design Certification Bootcamp
Become part of an exclusive network of experts and facilitators that master the real potential of platform design, beyond buzzwords and false promises.
This Bootcamp will change the way you think about platforms, organizations, and ecosystems.
NEW SCHEDULE: 6 sessions, 4 hours each, stretched in 3 weeks. A friendly schedule more comfortable for distant time zones and busy people. The Bootcamp sessions will be on October 7th - 8th - 14th - 15th - 19th - 20th, from 1 pm to 5 pm CEST.
> Note that this event is held in English.
Our much appreciated Online Platform Design Certification Bootcamp is now updated and extended, with new content coming from the Whitepaper and from our latest research trends in the fields of Future of Platforms, EEEO/Boundaryless Organisations, Exploration of Platform opportunities, Platform Growth practices. That's why the Bootcamp turned 2.0!
A preliminary Introduction Webinar one week before the online event, plus a side meeting on the tech tools used at the event (Miro and Zoom);
Real-time online experience with two (or more, depending on final numbers) trainers available live (this is not a MOOC, there will be no pre-recorded video, all will be live)
Accessing Platform Design Toolkit templates and exercises through Miro.com (our preferred platform for remote collaboration);
Using Zoom.com and Breakout rooms for Coaching with Platform Design Toolkit Trainers and for participant-to-participant peer feedback and interactions on the project contexts;
No additional technology or support will be requested from the participants, we'll provide all the technology. Just need your laptop with a stable internet connection, and a comfortable place where to sit (or stretch!).
GROUP DISCOUNTS & SPECIAL EDU TICKETS 
If you're planning to buy multiple tickets reach out to get group discounts. We provide an additional 5% discount for each further participant (groups of 2 get 5%, groups of 3 get 10%, groups of 4+ get 15%). Note that team discounts only apply to non-discounted tickets (Regular and Late Birds).
Also, note that special discounts are provided for public education institutions. Reach out for details through our website, "contact the organizer" or write us at hello@platformdesigntoolkit.com . 
What's this Bootcamp about?
For five years now Simone Cicero and the Boundaryless Team have been training hundreds of participants from all over the world thanks to the well-known 2-DAY Platform Design Masterclass. While the latter is focused on guiding the participants through the standard step by step process using a project-work, we have been asked often to create a deeper format, thought for designers, trainers, and strategists that deal with Platform-Ecosystem thinking as a core part of their work.
The context of Platform and Ecosystem is changing rapidly: as we enter an age of continuous change, rapidly transforming technologies, environmental breakdown, and social crises, we believe that acquiring the capability to design scalable strategies, will allow organizations to become positive transformative actors in the Anthropocene. A systemic view of markets is essential to a modern theory of platforms.
The Online Platform Design Certification Bootcamp v2.0 is the primary and most comprehensive training format we've designed, to offer you a full immersion into Platforms and the disruptive mindset behind them. It's a deeper and extended format dedicated to those that are aiming to become Platform Design Toolkit facilitators and become part of an exclusive network of individuals that master the real potential of platform design, beyond buzzwords and false promises for really transformative impacts.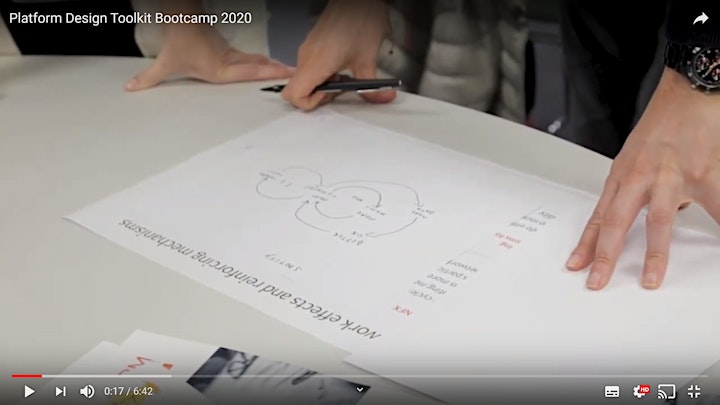 The Program: what will you learn in this Bootcamp
The Bootcamp will expose participants to a full and deep understanding of our framework and its interrelated aspects such as systems thinking, mastering network effects, organizational transformation, and integration with other facilitation tools.  
Here follows a preliminary list of elements that will make up the 6 sessions program:
The Context of Platform Design: we'll explore what is the future playing field for Platform Thinking. What kind of platforms is worth developing? How are new technologies such as blockchain enabling new possible design spaces? What is the social, ecological and political context of platform thinking?

The Key Elements of Platform Design and the Unified Market Theory: understanding post-Industrial markets and how value chains are transformed plus the two core Engines of Platform Design (transactions, and learning);

Network Effects and High Scalability: why it's so important today, to design high scalability organizations and value proposition? How does one master and recognize Network Effects?

Validating Platform Strategies: how to design experiences, validate them and develop an ecosystem in a lean way?

Solving the Chicken-Egg problem: once validation is achieved where to focus to achieve growth?

Organizational Transformation: learning how organizational development and design overlap with business-model innovation and how platform thinking can help to achieve radical ambidexterity in a chaotic world.

Designing & Running Platform-Ecosystem Workshops: how to design workshops complementing Platform Design Toolkit with other methods for strategic design and team facilitation? We'll share our experience.
Some key reads from our blog: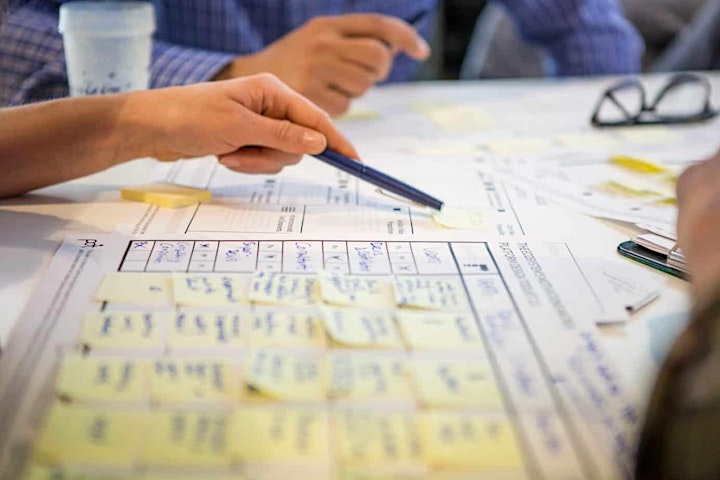 How does it work?
The Bootcamp flow will be based on:
short slide-based lectures;
personal, face to face coaching with Platform Design Toolkit team;
group-wide work;
small team exercises to apply the thinking to example projects we provide.
Note that the Bootcamp is not strictly designed to apply the Platform Design Toolkit to a specific project but instead to gain a deep understanding and elements of mastery to be able to apply the thinking to any project, context of challenge afterwards.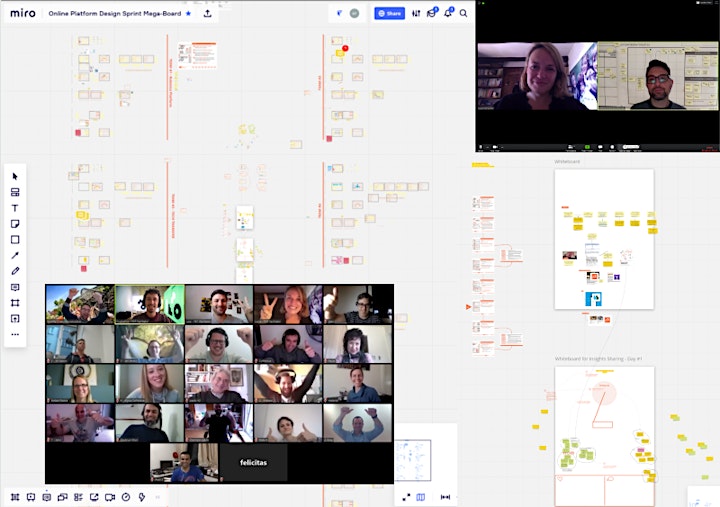 The Membership & Certification
The Platform Design Certification Bootcamp provides participants with:
an official Platform Design Toolkit — Certified Facilitator Badge;
an invitation to join the Platform Design Facilitators group, a private group of advanced practice leaders connected with us in a long-standing collaboration, to evolve the methodology and work together on opportunities arising across the globe.
The Platform Design Facilitators group will have access to:
private, recurring, invite-only office hours calls to explore the latest developments in the methodology, and ask your questions;
access to and use of official slide decks redacted by the PDT Team for you to use;
an exclusive (not released in Open Source) Facilitators Manual including workshop design guidelines, advanced tips for facilitation and much more;
beta versions of upcoming toolkit releases;
Why are Platforms so important?
Platform Strategies can transform organizations and help create new business models: independent providers of custom solutions are often perceived to deliver more value but are limited in their ability to scale. Platformization provides an opportunity to create scalable collaboration agreements, powered by narratives, technologies, and shared languages. 
Platforms help companies and organizations leverage the power of ecosystems to grow and reach outstanding results that cannot be reached independently. It's a key capability to help companies deliver more innovation with smaller investments with respect to building traditional services.
Platforms-Ecosystems thinking is therefore often pictured as a "silver bullet", but what is its real potential? In times of continuous change, and ever-growing complexity, mastering the design of ecosystem mobilizing, fast scaling, network effect driven strategies will make a monumental difference for organizations and designers.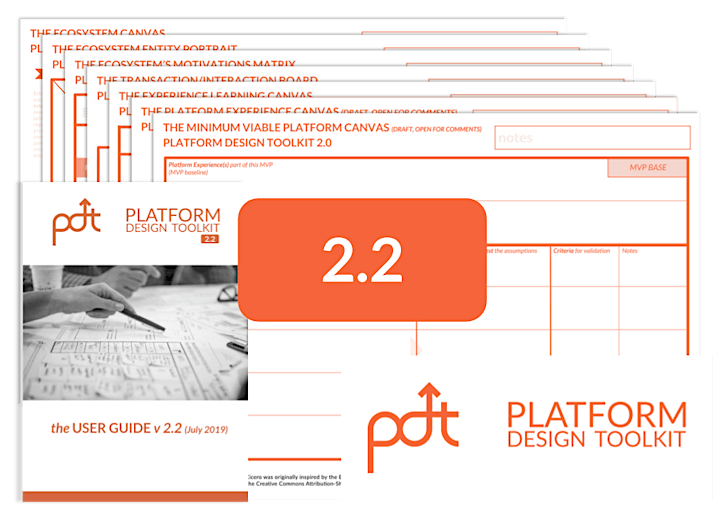 The Platform Design Toolkit and the Platform Opportunity Exploration Framework
The Platform Design Toolkit is the original, open-source design method, first released in 2013, to build multi-sided, transformative platform-strategies to empower ecosystems in creating shared value. 
Based on the tradition of Service Design, Lean Startup and Strategic Thinking, it was born to overcome the limitations in traditional, linear business approaches. 
It has been used by thousands of practitioners and adopters ranges from Fortune 500s to the United Nations, from renowned worldwide Business Schools to nimble startups.
Perfectly complemented by the Platform Opportunity Exploration framework - both covered by the Bootcamp program - these toolsets provide an effective, clear and accessible process and a set of visual tools for the co-creation of platform strategies grounded in the understanding of markets, value chains and systems.
Who's this course designed for?
Organization leaders running organization-wide Platform Design units and Innovation or Strategy groups;
Consultants and freelance platform catalysts, willing to learn how to master the full Platform Design Toolkit capabilities for client's projects and integrate it with other methodologies;
Human resources experts and organizational designers willing to integrate post-industrial approaches into their organizational development practices;
Systems Thinkers that want to master a powerful and digestible methodology to rapidly bring systemic thinking to the table, producing fast outstanding results;
Entrepreneurs working on platform projects, interested in integrating a deep vision and practice in the work they're doing, to maximize impact, and minimize time and energy lost in negligibly impacting projects.
Policy-makers wanting to understand the full scope of platform thinking and the full potential of ecosystem mobilization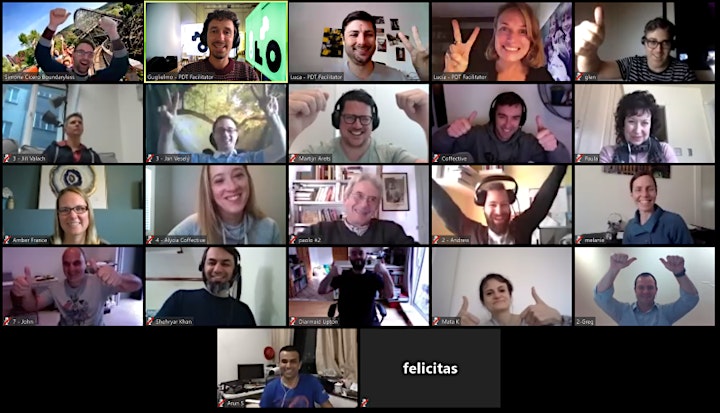 TESTIMONIALS about the Bootcamp
"If you are interested in practical platform design and looking for a toolset to establish ecosystem thinking within your team or organization, joining the Bootcamp is definitely worth! ...an exciting chance to share experiences and insights with people from all over the world. In my daily work, I benefit now from the views, methods and facilitation techniques I have experienced in the three days."
Jan Rudolph - Senior Consultant Digitization at DB Systel GmbH
"The Bootcamp is an excellent experience for professionals: networking, deep technical conversations, I'd recommend to anybody."
Mark Craddock - Technical Director at UN Global Platform
"I believe Platforms are the future: I'll use this new awareness to identify companies to invest in, and help those already in my portfolio to become aware of this massive transformational opportunity."
Kenny Nova - Entrepreneur and investor 
"The Bootcamp was exactly what I needed to jumpstart my journey with platforms and ecosystems. An intense workshop, where the team made a great job in aggregating, structuring and translating the latest content for aspiring facilitators. After countless epiphanies, I left the Bootcamp with a bag full of relevant tools, the right mindset and most importantly the confidence that I now have a community where I can address my real-world challenges." 
Robert Egli - Business Developer at Microsoft Switzerland
TESTIMONIALS about the Methodology
"In an increasingly networked world, we're going to need more tools like the Platform Design Toolkit"John Hagel - Deloitte Center for Edge Innovation
"The platform design toolkit is more than a tool, it is a mindset. It helped us explore how to connect all the players around innovation challenges".Genevieve Douhet - Associate Director - Innovation Société Générale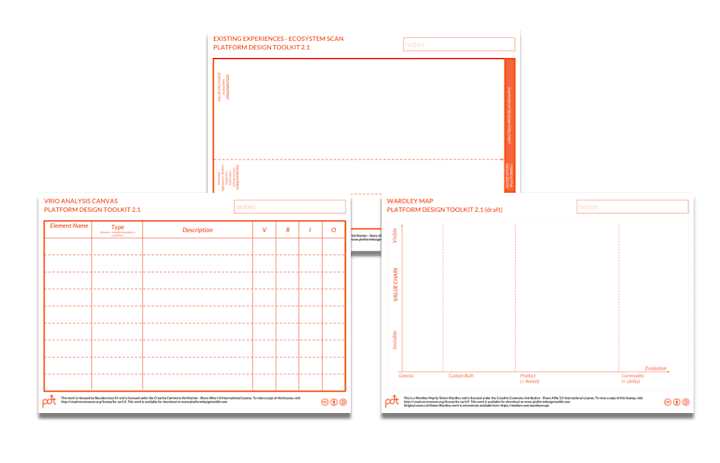 FAQ
How should I prepare for the course?
Participants will receive preliminary reads and content, no specific preparation is required. 
It is a course for beginners or experts?
This course is on advanced material - the creation of new products and services or the rethinking of organizations - but does so in a practical way and leaving to the participants the tools and references to use, so it is a course for participants that understand the context, but it does not require any previous knowledge on the subject of platforms, innovation or design. 
I'm already executing a platform strategy, can I still attend?
This course is not focused on helping you with a single project, though it will be extremely helpful to accelerate your deep understanding of the context of the project you're working on and likely have a decisive impact on it. 
I'm afraid I'm going to miss one or two sessions, what is gonna happen?
We've designed an experience that is highly interactive among you, the trainers, and the other attendees. A great part of the learnings will be developed through the interactions and conversations within your working group, so it's fundamental to attend the sessions in presence. In case of last-minute issues preventing your presence, you will get limited access to the video-recordings of the missing session, to keep the same pace as the other attendees.
CONFIRMATION, TICKET INFORMATION & CANCELLATION POLICY
Please note that the event is confirmed.
Our standard confirmation/cancellation policy: you'll receive a message when we confirm it officially, not later than 15 days before the event, normally much before depending on ticket sales. In case of cancellation from our side, you'll obviously receive a full refund.
Be sure you select the right option if you're an EU VIES-registered VAT holder: you will save 22% VAT in that case and your ticket will be much cheaper.
ATTENDEE REFUND POLICY: If you decide to cancel your ticket, you'll be able to ask for a full ticket refund up to fifteen days before. No money refund will be offered after that date: you'll be given a free admission ticket for any of the upcoming European Platform Design Toolkit Bootcamp in English organized directly by the Platform Design Toolkit team in the following months.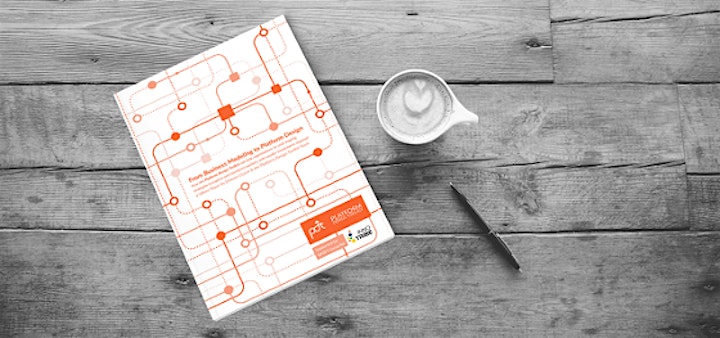 >> FOR DIRECT PAYMENT THROUGH BANK WIRE PLEASE CONTACT US <<
Resources related to Platform Design Toolkit
Your Trainers
You'll receive training directly from the core team at Boundaryless, the creators of Platform Design Toolkit that have been training more than a thousand - in private and public settings - spreading platform design all over the world.
We will confirm the trainers' team a few days before the event.