Sales Have Ended
Registrations are closed
Oops... le iscrizioni sono chiuse. Scrivici per ricevere il materiale e la documentazione distribuiti. info@codevintec.it
Sales Have Ended
Registrations are closed
Oops... le iscrizioni sono chiuse. Scrivici per ricevere il materiale e la documentazione distribuiti. info@codevintec.it
Description
The latest technologies for Earth and Marine Sciences:
a two-day workshop with presentations and demonstrations in the field and at sea.


May 30 - Marine Sciences solutions:

2D and 3D seabed and coastal survey (Multibeam, SSS, SBP, Laser Scanner, magnetometers, hydrographic softwares)

dredging (software and systems for managemente and real time monitoring)

UXO (unexploded ordnance)
navigation, positioning and attitude measurement systems (GNSS, INS, DVL, USBL)

underwater seismic and geodetic monitoring (LBL and OBS Ocean Bottom Seismographs)

remote sensing, 3D imaging (marine drones, ASV, AUV, acoustic modems)

oceanography (CTD and multiparametric probes, ADCP)
Search & Rescue (acoustic cameras, scuba positioning and navigation console)
On board demonstrations with Multibeam, Laser Scanner, Inertial Measurement Unit, Side Scan Sonar and data acquisition software
Survey with Autonomous Unmanned Vehicle equipped with sonar Multibeam and Inertial Measurement Unit

May 31 - Earth Sciences solutions:

underground surveys, environmental monitoring and applied geophysics (seismographs, magnetometers, resistivity meters...)

buildings, structures and infrastructures monitoring (high frequency GPR, RAR interferometers)
no-dig and utilities surveys (GPR, 3D Step Frequency GPR)

UXO (unexploded ordnance)
landslide monitoring (SAR interferometers)

seismology and volcanology (seismic monitoring networks, Strong Motion, Early Warning)
On field demonstrations:
GPR array with Step Frequency technology: innovative 3D-Radar
FastGBSAR, Metasensing radar tecnique for deformation analysis and Early Warning
Practical demonstration with the newest GSSI GPR products

May 31 - CARIS hydrographic software:
In parallel with the land equipment event, Teledyne CARIS will held an in-depth workshop, exploring the advanced Real-Time Automation capabilities of the new CARIS Onboard, in combination with the latest powerful features of CARIS Hips version 11.
The presentation is open also to non-CARIS users.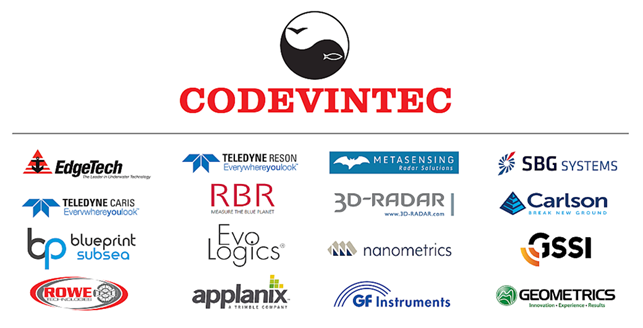 FAQ
May I register for only 1 day?
Yes! Clik "Register" and choose the preferred date. You can attend one or both days, and the CARIS presentation.

I'm registered to the 1st day. May I decide onsite whether to attend the 2nd day?
Of course! Please advise the staff as soon as you decide.

Is my registration transferable?
Yes, once you're registerd you can trasfer to another people. Please advise the staff: info@codevintec.it
May I change my data?
After the registration, you will receive an email with a link to your data. Use the link to reach the page and modify your data or cancel your registration.