Sales Have Ended
Registrations are closed
NON STAMPARE IL BIGLIETTO, non è necessario. Ti aspettiamo! Team #TEDxPescara
Sales Have Ended
Registrations are closed
NON STAMPARE IL BIGLIETTO, non è necessario. Ti aspettiamo! Team #TEDxPescara
TED Countdown is a global initiative to champion and accelerate solutions to the climate crisis, turning ideas into action.
About this event
TED Countdown is a global initiative to champion and accelerate solutions to the climate crisis, turning ideas into action.
The Countdown goal: To build a better future by cutting greenhouse gas emissions in half by 2030 in the race to a zero-carbon world – a world that is safer, cleaner and fairer for everyone. Every organization, company, city and nation and citizens everywhere are invited to collaborate with Countdown and take action on climate. It is a movement open to everyone – and everyone has a vital role to play.
L'EVENTO CONSISTE NELLA PROIEZIONE DI UNA SELEZIONE DEI TALK ORIGINALI (SOTTOTITOLI IN INGLESE OVE DISPONIBILI) REGISTRATI DURANTE L'ULTIMO TED COUNTDOWN IN OTTOBRE 2021 A EDIMBURGO, SCOZIA.
I posti sono limitati, sarà necessario esibire il SUPER Green Pass valido all'ingresso. È obbligatorio l'uso della mascherina.
GREEN PASS
Puoi accedere solo se in possesso di SUPER Green Pass – ad esclusione dei soggetti previsti dalla legge – e un documento di identità in corso di validità.
Il Green Pass attesta:
- certificato di avvenuta vaccinazione (aver effettuato la prima dose o il vaccino monodose da 15 giorni; aver completato il ciclo vaccinale).
- essere guariti dal Covid-19 nei 6 mesi precedenti.
In caso di mancata esibizione della documentazione, non potrai accedere.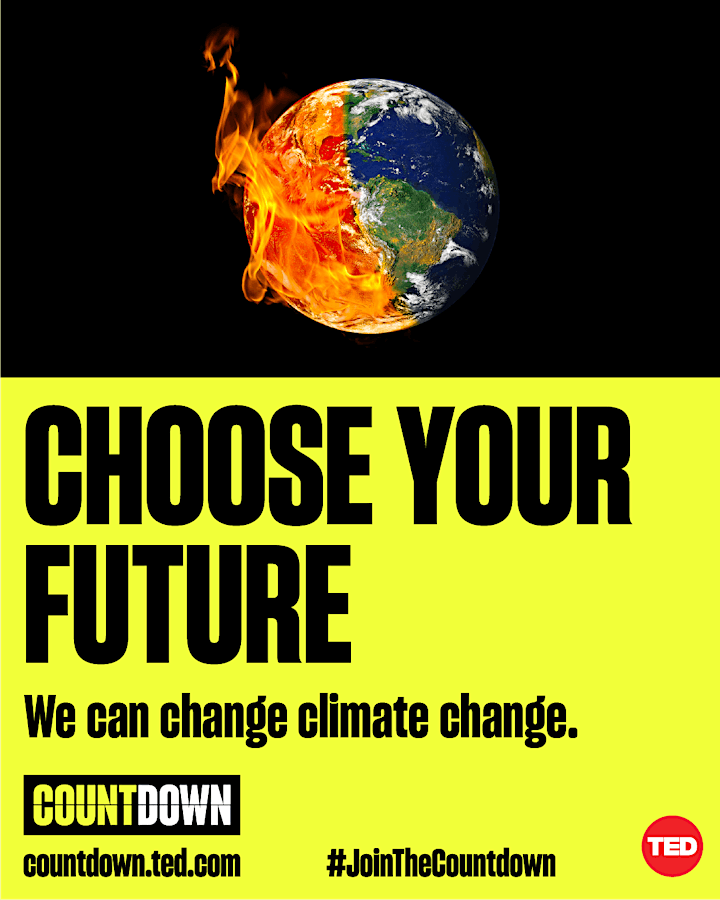 Organizer of TEDxPescara Countdown A BETTER FUTURE
TED = Tecnologia, Intrattenimento, Design
Tre ampie aree che, insieme, stanno creando il nostro futuro. TED è un'organizzazione non-profit ed una comunità globale che ha come obiettivo la condivisione di "idee che meritano di essere diffuse", ospitando persone delle più svariate discipline e culture. Iniziato come semplice convegno in California nel 1984, TED è cresciuto nella sua "mission" attraverso molteplici iniziative. La conferenza TED aggrega, in un solo luogo, le menti più brillanti e curiose del nostro tempo, per contagiare il mondo con idee innovative, idee "capaci di cambiare gli atteggiamenti, le vite e in definitiva il mondo".
TEDX = indipendently organized TED event
TEDx è creato nello spirito della missione TED. Il programma è organizzato in modo da dare alle comunità locali, organizzazioni ed individui, l'opportunità di stimolare il dialogo tramite esperienze simili a TED, ma a livello locale. Per organizzare un TEDx è necessario essere approvati dall'organizzazione TED e ottenere la relativa licenza. L'organizzazione TED fornisce il modello guida generale per l'organizzazione degli eventi TEDx, ma i TEDx sono realizzati i n modo indipendente.