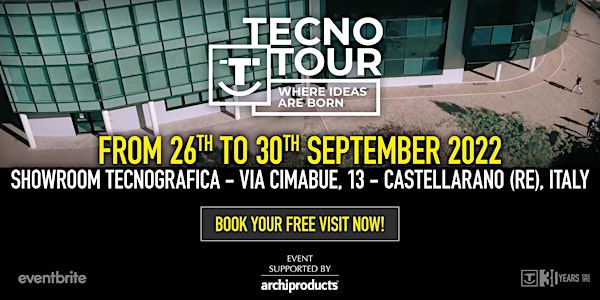 Tecno Tour 2022 | Tecnografica Italian Wallcoverings factory tour
Tecnografica opens the doors of its showroom in Castellarano (RE) for a guided tour in the world of wallpaper and decorative panels.
About this event
After years during which we get used to live in an increasingly "virtual" world, Tecnografica has decided to organize an event where all partners, clients, design and architecture experts can visit the behind-the-scene of the company. It will be such an exclusive experience where it will be possible to share and convey the soul of all products signed by Tecnografica Italian Wallcoverings.
Tecno Tour 2022 is a guided visit behind the scenes of the company to discover firsthand how a simple stroke of ink or a small stone can become decorative products with such a strong visual impact.
This tour will go through the different steps needed for the production of both wallpaper and decorative panels. Thus, it will be possible to visit the labs where our artists experiment with different painting techniques and materials; the showroom dedicated to stones, marbles and other precious materials that can be scanned to obtain the graphic designs for the decorative panels; the offices of our graphic designers, where handmade or scanned images are improved and optimized for each single project; the production departments, where the wallpaper is printed and the decorative panels developed.
During the visit there will be areas dedicated to little breaks and networking, where it will be possible to closely observe the installed products and where our commercial staff can satisfy any doubt or curiosity you may have.
The visit will be around 50 minutes long.
Tecnografica is waiting for you at Tecno Tour 2022, from the 26th to the 30th of September at the showroom placed in Castellarano (RE).
Book your free visit now!
For any further queries or special need, please email: tecnotour@tecnografica.net