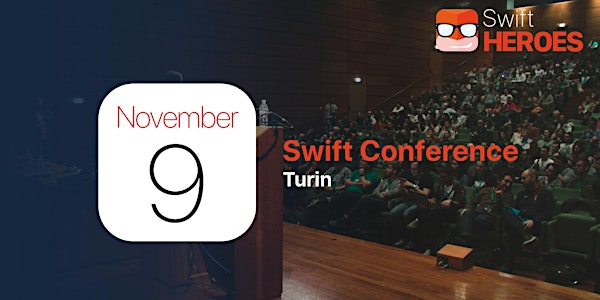 Swift Heroes 2018 - The Swift Conference (November 9th)
When and where
Location
Centro Congressi Torino Incontra Via Nino Costa 8 10123 Torino Italy
Description
The brand new swift conference entirely dedicated to Swift, iOS, macOS, watchOS and tvOS Development.
A conference by developers and for developers
The first edition will be 9 November 2018 @ Torino
Final Agenda will be published September 15, 2018 . Stay tuned on : http://www.swiftheroes.com
Standard tickets for the Conference
EARLY BIRD TICKET: 99€ from September 15 till October 15;
REGULAR TICKET: 129€ from October 15 till November 9;
STUDENT TICKET: 49€

The Event

Swift Heroes is a new event bringing together all parts of the Apple developer value chain to share, learn and network.
With talks on the newest functionality, how to optimise your project management, and how to integrate with industry trends and changes, Swift Heroes is a one-stop-shop for proactive Apple developers and engineers.
Hosted in Turin, the digital & innovation capital of Italy, Swift Heroes will take place on one day, with two tracks of high quality content.

About

Bringing together the Apple community means that the participants can benefit from shared knowledge, experience and networking across the whole range of the operating system.
Engineers, designers, marketers and managers can interact and up-skill on the most important developments from Apple.
Your day at Swift Heroes is structured so that you can get as much as possible from your experience at the event.
Networking events are peppered throughout the day so that you have many opportunities to connect with other participants and build meaningful relationships.
With big picture keynote presentations, plus detailed track presentations, participants can choose which topics and speakers are most relevant and useful for them to follow.
Topics
Continuous Integration
RxSwift
tvOS / AppleTV
Development patterns
iOS Marketing
Architecture
Machine Learning
Protocol Oriented Programming
UX/ UI
Security
ARKit
Serverside Swift
Organized by
Synesthesia & SYX
Synesthesia is a ten year+ software house in Turin, Swift Heroes will benefit from the outstanding range of experience of this passionate and committed team. This truly is a conference by developers for developers.
Synesthesia also produce the 'must attend' event, droidcon Turin, focused on the Android ecosystem. Launched in 2014, droidcon Turin now attracts over 1000 participants across two days, and is a well respected showcase for innovation and best practice in Android.
SYX is a non-profit organization that organizes congresses, workshops, training courses and networking events.
In the last two years we have provided courses to more than 50 companies on Android and iOS Development, Mobile Security, User Experience and UI Design, Swift, Magento, Multiplatform Development, Gamification and Mobile Marketing.
SYX organizes droidcon Italy (http://it.droidcon.com/) SwiftHeroes (www.swiftheroes.com) and FutureMakers (www.futuremakers.it/)
More Info at http://www.swiftheroes.com
Registering to Swift Heroes you are agreeing to join the SYX Association, the Statuto of Association and accompanying Rules (both of which are viewable on the SYX website). You also accept the privacy policy
As non-profit activity Swift Heroes benefit from the VAT exemption.
It is not possible request an invoice for the ticket, only the receipt. No VAT deduction is allowed.
FAQs:
Q: Is it only possible to pay using Paypal?
A: You can use any credit card using the Paypal gateway. If you prefer to use Bank Transfer (bonifico bancario) or other payment options, please contact us.
Q: Is there any discount for large groups, schools, user groups, etc.?
A: We can agree discounts for schools and universities (both public and private institutions).
Q: Can the ticket be transferred?
A: No, tickets are personal. If can't come and want to transfer your ticket, contact us.
Q: Do I need to print the ticket?
A: No, you can also use the digital version on your smartphone/tablet/pc. Be enviroment friendly!
Q: I have another question...
A: use the "contact organizer" ("contatta l'organizzatore") button on the right column. Feel free to write us!