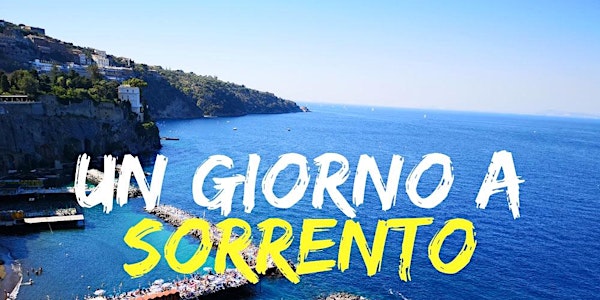 Multiple dates
Sorrento Art & free walkin Tour Limoncello free su panorami mozzafiato !
A Sorrento Art&Free Limoncello taste on Breathtaking Views! A Sorrento Tour Arte Barocca & Degustazioni gratis di Limoncello su panorami!
Date and time
Sat, 14 Jan 2023 10:00 - Sun, 2 Apr 2023 12:30 CET
Location
Fauno 13 Piazza Torquato Tasso 80067 Sorrento Italy
About this event
ENGLISH =
ALL EVENTS ARE TEMPORARILY SUSPENDED DUE TO Tecnical PROBLEMS SOFTWARE ENGINEERS ON VIRGILIO.IT AND LIBERO.IT PLATFORMS =
WE HOPE SOON WE WILL BE ABLE TO CONNECT WITH THE ABOVE-MENTIONED GENIUS PEOPLE!
ITALIANO =
TUTTI GLI EVENTI SONO MOMENTANEAMENTE SOSPESI CAUSA PROBLEMI TECNICI SU PIATTAFORME VIRGILIO.IT E LIBERO.IT =
SPERIAMO A BREVE POTER CONNETTERE CON I SUDDETTI GENI !
Meeting in Sorrento in Piazza Tasso at Bar Fauno at 10 in the morning with the Official Guide who always wears the Official Tourist Guide Badge.
The Tour is in English language only.
The Official Tourist Guide accompanies us through the Greek-Roman city of Sorrento through the Renaissance palaces
Internal visit of the Baroque Cathedral and internal visit
of the Church of the people of Sorrentini with a thousand secrets!
The guide shows you the secrets of the Crypt!
Break for a free tasting of typical local products:
Please write in email a Whats up number to confirm the number of adults.
Without a Whats up number, the reservation is cancelled and the Guide does not show up.
The free walking tour provides that at the end of the tour you can decide to pay from 10 euros onwards per person depending on how much you want.
For those who love sweets: biscuits with Amalfi and Sorrento lemons.
Chocolate pistachio and coconut specialty.
For those who love salty chilli pepper creams with E.v.o. local or savory specialties with various types of limoncello creams from the Amalfi and Sorrento coasts and many other surprises for young and old.
Internal visit to the Gothic Cloister with breathtaking views.
Surprise visit to the fishing village on breathtaking views!
Return by minibus (ticket 1.50 cents from the driver) or if you want return by taxi or if you prefer on foot to the starting point Piazza Tasso in Sorrento at Bar Fauno.
If you want, ask the local guide for advice where you can taste the typical local places where the Sorrentines love to go!
Please write in the booking email a single Whats up number to confirm the number of participants.
Thanks!
ITALIANO=
Ritrovo a Sorrento in Piazza Tasso al Bar Fauno alle ore 10 del mattino con la Guida Ufficiale che indossa sempre il Tesserino di Guida Turistica Ufficiale.
TOUR IN LINGUA ITALIANO SU RICHIESTA .
La Guida Turistica Ufficiale ci accompagna attraverso la città greco-romana di Sorrento attraverso i palazzi rinascimentali
Visita interna della Cattedrale barocca e visita interna
della Chiesa del popolo dei Sorrentini dai mille segreti!
La guida ti mostra i segreti della Cripta!
Pausa per una degustazione gratuita di prodotti tipici locali:
Si prega di scrivere nell'e-mail un numero Whats up per confermare il numero di adulti.
Senza un numero Whats up, la prenotazione viene annullata e la Guida non si presenta.
Il free walking tour prevede che alla fine del tour si possa decidere di pagare dai 10 euro in poi a persona a seconda di quanto si desidera.
Per chi ama i dolci: biscotti ai limoni di Amalfi e Sorrento.
Specialità al cioccolato al pistacchio e cocco.
Per chi ama le creme salate al peperoncino con E.v.o. specialità locali o salate con vari tipi di creme al limoncello della costiera amalfitana e sorrentina e tante altre sorprese per grandi e piccini.
Visita interna al Chiostro Gotico con vista mozzafiato.
Visita a sorpresa al villaggio di pescatori su panorami mozzafiato!
Rientro in minibus (biglietto 1,50 cent dall'autista) oppure se si desidera rientro in taxi o se si preferisce a piedi fino al punto di partenza Piazza Tasso a Sorrento al Bar Fauno.
Se vuoi, chiedi consiglio alla guida locale dove poter degustare i locali tipici dove i sorrentini amano andare!
Si prega di scrivere nella mail di prenotazione un unico numero Whats up per confermare il numero di partecipanti.
Grazie!