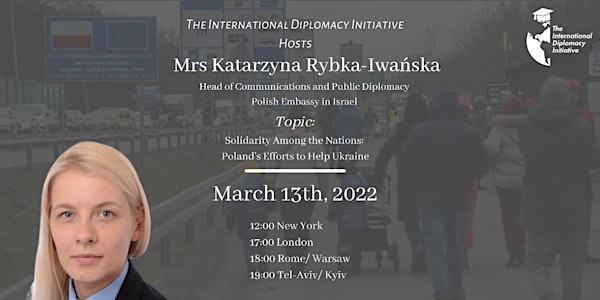 Solidarity Among the Nations: Poland's Efforts to Help Ukraine
The IDI presenting: "Solidarity Among the Nations: Poland's Efforts to Help Ukraine" by Mrs Katarzyna Rybka-Iwańska!
About this event
Amid the ongoing Russian invasion of Ukraine, Poland's government has promised to welcome all those fleeing the war-torn country. Since the start of the invasion, and with violence escalating inside Ukraine, refugee reception points have opened, offering food and medical assistance organised by the government in order to assist those seeking refuge. Refugees arriving in Poland from Ukraine have found accommodation provided by citizens, private businesses and non-governmental organisations (NGOs).
Join us on March 13 for The International Diplomacy Initiative's Digital Global Event:
Solidarity Among the Nations: Poland's Efforts to Help Ukraine, with guest speaker Mrs. Katarzyna Rybka-Iwańska
Katarzyna Rybka-Iwańska is the Head of Communications and Public Diplomacy at the Polish Embassy in Israel, serving here since 2018. She is a career diplomat, public diplomacy and storytelling expert. Before her posting in Israel, Katarzyna was engaged into strategic planning and global analysis at the Department of Foreign Policy Strategy at the Polish Ministry of Foreign Affairs (2010-2018). Before that, at the Chancellery of the Prime Minister of Poland, Katarzyna used to assist the Board of Strategic Advisors to the Prime Minister (2008-2010).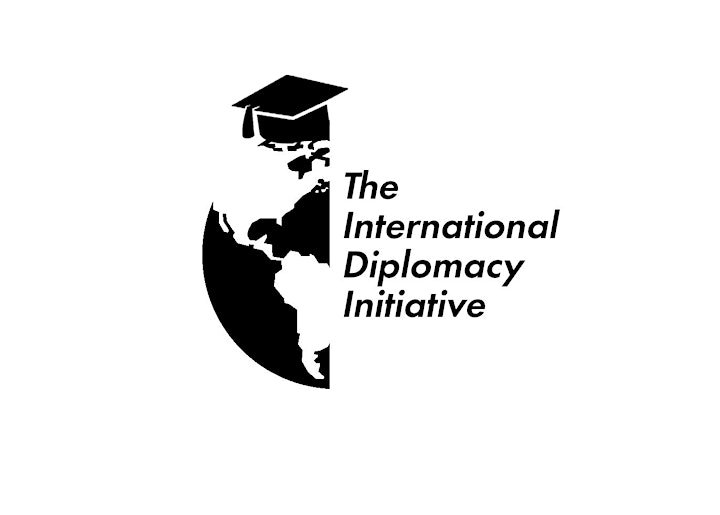 The International Diplomacy Initiative (IDI) is an international, student-run nonprofit organization dedicated to advancing diplomacy throughout the world. Engaging students and practitioners with real-world diplomatic experience through lectures and other events, IDI seeks to provide the next-generation of diplomats with the skills needed to enact global change.
The Initiative cooperates with embassies, multilateral organizations, NGOs, and more to engage young people in Israel and around the world.
Further info about the IDI you can find in our website
Interested to get involved in the IDI? please click here