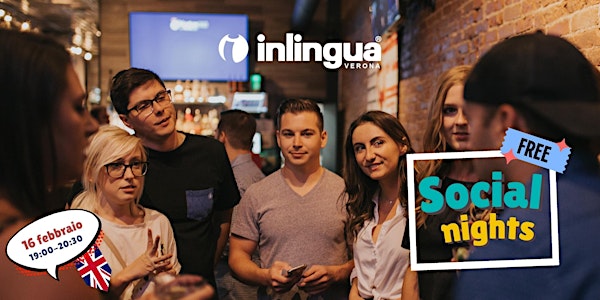 Social night in lingua inglese con inlingua Verona
Proseguono le Social Nights di inlingua Verona, aperte e dedicate a tutti, studenti e non, di tutti i livelli.
Date and time
Thursday, February 16 · 7 - 8:30pm CET
Location
inlingua Verona srl 21 Stradone S. Fermo 37121 Verona Italy
About this event
Proseguono le nostre Social Nights, aperte e dedicate a tutti, studenti e non di tutti i livelli.
GIOVEDI' 16 febbraio dalle 19.00 alle 20.30 parleremo di "Music", tipi di musica, i testi nelle canzoni, i sentimenti nella musica, concerti e tant'altro.
What music do you listen to? Where do you listen to music? What songs represents you? Which song has the best lyrics?
Una serata per stare in compagnia con uno spritz in mano, facendo quattro chiacchere in inglese con la nostra madrelingua Britannica Sandra.
Vi aspettiamo presso la nostra sede in Stradone San Fermo 21!
About the organizer
inlingua Verona nasce nel 1998 grazie alla profonda passione del nostro Direttore per l'insegnamento. La sua comprovata esperienza professionale ed una squadra didattica e amministrativa di qualità hanno garantito alla nostra scuola una crescita rapida e continua, che in poco tempo ci ha portato ad essere competitivi sul mercato veronese.
Nel 2012, in virtù della nostra crescita costante, abbiamo lasciato la nostra sede storica di via Leoncino per trasferirci nella più ampia ed elegante sede di Stradone San Fermo 21, con più di 10 aule per la formazione, tra cui alcune destinate in particolare ai corsi per bambini.
Nel frattempo, con il passare degli anni la nostra rete di contatti, clienti e enti collaboratori si è allargata fino ad includere molte delle più solide realtà sul territorio veronese e nazionale, permettendoci di ampliare la nostra struttura interna e la nostra attività formativa
Ad oggi offriamo corsi in 14 lingue, con programmi specializzati per ogni esigenza e soluzioni personalizzate originali ed esclusive.
SERVIZI OFFERTE:
Corsi in aula e Corsi e-learning
CORSI PER BAMBINI
• Corsi in piccoli gruppi Disney English presso inlingua Verona / le scuole
• English Lab
• Kids Night Out
• Summer Camp
• Corsi presso le scuole (preparazione esami-potenziamento linguistico-corsi di conversazione)
CORSI PER ADULTI
• Corsi serali in piccoli gruppi 4-7 persone ottobre-giugno
• Corsi individuali - metodo inlingua/ personalizzati (preparazione certificazioni, vocaboli e situazioni lavorativi, programmi personalizzati: lingua generale, business o settoriale
CORSI AZIENDALI
• Corsi individuali, semi-individuale e piccoli gruppi presso la scuola, direttamente in azienda o in Virtual Classroom
• Workshop
CENTRO ESAMI
• Centro Esame Gatehouse Classic - riconosciuto a livello internazionale - valido anche per l'Università di Verona
CENTRO PREPARAZIONE ESAMI
• Gatehouse Classic
• Cambridge, Trinity, IELTS, TOEFL
• DELF, DALF, DELE, Zertifikat Deutsch.
VACANZE STUDIO ALL'ESTERO
• viaggi studio all'estero presso le altre sedi inlingua per chi vuole migliorare le proprie conoscenze linguistiche e vivere un'esperienza unica
SERVIZIO TRADUZIONI
• Traduzioni
• Interpretariato: consulenze, simultanee e consecutive