Social Analytics Conference | Firenze, 28 maggio
When and where
Location
via Urbano Rattazzi, 2/A angolo Lungarno Colombo Firenze Italy
Description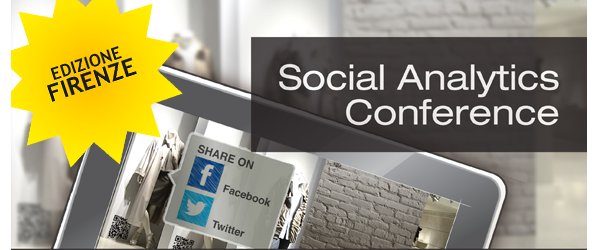 Big data e social media: cambiamenti e nuovi scenari nella business intelligence.
Tutte le imprese marketing-intensive stanno vivendo un profondo e inevitabile cambiamento legato alla diffusione dei social network sia tra il pubblico consumer sia come strumento di comunicazione all'interno delle organizzazioni.

Per queste aziende è necessario mantenere il proprio vantaggio competitivo: leggere, organizzare e comprendere una quantità di dati elevatissima, sempre crescente, è d'importanza cruciale per molte scelte aziendali.
Gli strumenti di business analytics, i modelli organizzativi e le strategie che, fino a poco tempo fa, erano in grado di gestire i dati aziendali oggi si dimostrano inefficaci. I nuovi scenari hanno modelli, player e strategie totalmente social-oriented.

Qual è la giusta via per trasformare il proprio business in un social business?
Una conference sintetica e che va dritto al punto: analisti, consulenti ed esperti IT, marketing e organizzazione parlano ai C-level delle imprese marketing-intensive per dibattere su quali siano i migliori approcci e best practice legati a social business intelligence e social analytics.








Programma
10.15
Welcome e registration
10.30
Giorgio Moresi, Business Intelligence Top Client Solutions Manager | Xenesys
Lo scenario è cambiato: dalla BI tradizionale al big data management nell'era dei social media, per rispondere alle nuove domande del business
11.00
Fabrizio Martire, Co-founder and CEO | Gummy Industries
Social media e big data: come l'esterno influenza l'interno
11.30
Cosimo Palmisano, Vice President, Product Management | Decisyon
CRM and social network: enrich legacy database with social network information
12.00
Stefano Sartorio, Senior Sales Engineer | MicroStrategy
Alert: analytics e mobile commerce per i retailer
12.30
Filippo Del Monte, Sales Manager, Responsabile Technical Sales Consultant | Xenesys
Roambi: Big data? Small screen? No problem.
13.00
Light lunch
Modera Alessio Pietrelli, responsabile Enterprise Applications | Xenesys
Per chi arriva in treno:
stazione Campo di Marte (15 minuti a piedi)
Per chi arriva in auto:
parcheggio a pagamento in piazza Alberti (5 minuti a piedi) o parcheggio a pagamento su strisce blu nei pressi del luogo dell'evento
Per maggiori informazioni: Irene Rossi | cell. +39.338.5071796 | irene.rossi@xenesys.it





Organized by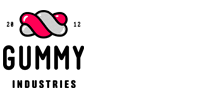 Sponsored by