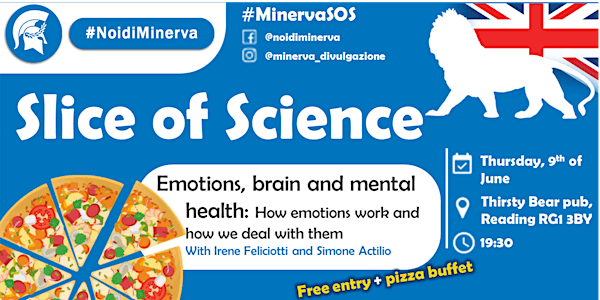 Slice of Science "Emotions, brain and mental health"
Location
Thirsty Bear Pub & Pizza Restaurant
110 King's Road
Reading
RG1 3BY
United Kingdom
The last of a series of three science communication events. We will talk about our mind and emotions this time: we are complicated!
About this event
Why do we blush? Why do we cry? Why do we fall in love? Why do we have anxiety?
Emotions lead us every day; they stimulate us, give us some signs that we shouldn't ignore, drive our dreams and change our memories. But sometimes, emotions come so strong that we don't understand the feelings and the distress completely. Is this normal?
Thanks to neuroscience and psychology, we can understand our brain and mind.
Irene and Simone will tell you what emotions are, how our brain works and how to take care of our precious mind.
This is the third event of #SliceOfScience, where a group of scientists will chat about different topics, like diet, climate and mental health. Attendance is free, with a small pizza-buffet, but we advise you to reserve a seat .
However, a small donation is still appreciated!
Everyone is welcome!