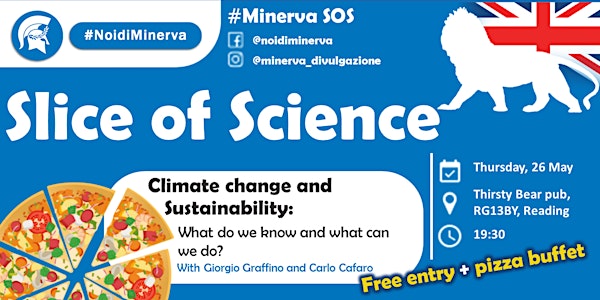 Slice of Science "Climate change and sustainability"
Location
Thirsty Bear Pub & Pizza Restaurant
110 King's Road
Reading
RG1 3BY
United Kingdom
The second of a series of three science communication events. This time it's about our planet's health and how we can have an impact.
About this event
We are now certain that recent climate change is caused by human activities. That already has big consequences on our lives, and likely it will have even bigger ones in the future. What can we do to limit the damage? To rethink at our lifestyles to make them as more sustainable as possible.
This is the second event of #SliceOfScience, where a group of scientists will chat about different topics, like diet, climate and mental health. Attendance is free, with a small pizza-buffet, but we advise you to reserve a seat .
However, a small donation is still appreciated!
Everyone is welcome!