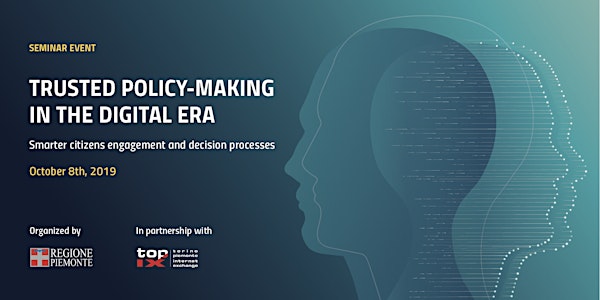 Seminar event: TRUSTED POLICY-MAKING IN THE DIGITAL ERA
When and where
Location
Piedmont Region Delegation to the EU 62 Rue du Trône 1050 Bruxelles Belgium
Description
TRUSTED POLICY-MAKING IN THE DIGITAL ERA
Smarter citizens engagement and decision processes


Abstract
Data-driven based solutions are widely emerging in our regional governments, presenting an opportunity to design effective local strategies.
The seminar will explore how policy decisions can be based on sound evidence, presenting and discussing:
- the benefits for decision-makers in using smart data platforms and interconnected services, such as spatial planning or social network modelling,
- innovative EU-funded projects solutions and other best practices,
The seminar event is organized by Piedmont Region in partnership with TOP-IX Consortium under the umbrella of European Week of Regions and Cities 2019.


---
AGENDA
10:00 - 10:30 REGISTRATION
10:30 - 10:50 WELCOME AND INTRODUCTION
Matteo Marnati - Regional Minister of Environment, Innovation and Research and Digital Agenda at Regione Piemonte.
Davide Calonico - President at TOP-IX.


10:50 - 11:05 THE MODERN POLICY-MAKING CHALLENGE
Andrea Boccuni - Head of International Partnership and Education at The Good Lobby - "Instruments for democratic participation: Best practices in modern policy-making."
11:05 - 12:00 TECHNOLOGIES AND APPROACHES TO SUPPORT DECISION AND POLICY-MAKING
#EU FUNDED PROJECTS
Guido Boella - Coordinator of CO3project (Co-create, Co-produce and Co-manage) – "CO3, Digital Disruptive Technologies to Co-create, Co-produce and Co-manage Open Public Services along with Citizens."

Lieven Raes - Coordinator of PoliVisu (Policy Development based on Advanced Geospatial Data Analytics and Visualisation) - "Policy Visualisation - Helping cities to become more sustainable with open and big data."

#BEST PRACTICES

Sylvie Occelli - Head of Research Unit at IRES Piemonte - "A tool for designing integrated policy actions: can we reason together?"

Sarah Wolf - Researcher at Global Climate Forum - "Decision Theatre - a process for communication, research, and decision support."

12:00 - 12:15 SUPPORT TO EU DECISION-MAKING
Andrea Conte - Team Leader European Commission Joint Research Centre – "Big Data & Modelling. Rhomolo Model and the EU Impact Assessments."
12:15 - 13:00 OPEN DISCUSSION AND WRAP-UP
Light lunch to follow.