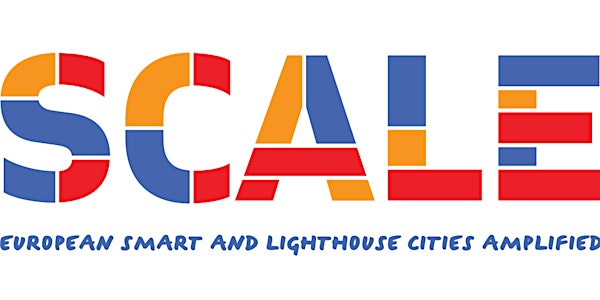 SCALE City Coordinators Group - Launch Ceremony
This event will officially kick off the City Coordinators Group, an initiative embedded in SCALE
About this event
This event will officially kick off the City Coordinators Group, an initiative embedded in SCALE - European Smart and Lighthouse Cities Amplified. In partnership with the European Commission and CINEA, SCALE provides large-scale, long-term support for the 120 cities and 18 Lighthouse projects involved in the Horizon 2020 Smart Cities and Communities Lighthouse Group.
The City Coordinators Group (CCG) will bring together Lighthouse and Fellow cities from the H2020 Lighthouse group, and offer them opportunities to expand their network, find new project partners, discovering innovative solutions and getting inspiration, and eventually, advocate for their needs, at the EU level.
In line with the 2050 vision of the Covenant of Mayors, Lighthouse projects have been pushing the local transition to climate neutrality by implementing over 550 demonstrations of integrated, smart technological and social innovations in the domains of mobility, smart buildings, smart infrastructure, citizen engagement and data platforms, as well as in city governance.
Knowledge sharing, partnership-building and networking will be the keywords of this group.
This event will make the establishment of this group official and present a roadmap of activities.
Three guest Lighthouse Cities (Eindhoven, Valencia and Milan) will present innovative results of their Lighthouse projects and possible ideas and strategies to scale it up.
As part of SCALE, the City Coordinators Group is just one of many more opportunities that SCALE is delivering to Lighthouse and Fellow cities. Established to serve as a unifying element, networking and connecting all project stakeholders and guide them towards Europe-wide replication, SCALE helps to improve the overall performance and enhance the significance of the Smart Cities and Communities Group. Through its support framework, it provides cooperation, design, communication, logistical support, consultations, access to business models and financiers, and application of a stable governance approach, in order to enable further replication of piloted and proven smart city solutions.
City Coordinators Group - Launching CeremonyAgenda
Date – 7th October 2021 Time: 15.00 – 16.30
Location: Zoom (link will be sent after registration) Registration required
Welcoming – 10 minutes
Welcoming - Mr Georg Houben, Policy Officer at DG Energy
City Coordination Group Roadmap presentation – 20 minutes
Presentation of the City Coordinators Group Roadmap - 10 minutes
Questions - 10 minutes
Dialogue session with City Coordinators - Presentation of Lighthouse best practices and solutions in the path towards climate neutrality - 30-35 minutes
Open questions:
- Which are the 5 most important lessons learnt from your Lighthouse project?
-Which will be the next steps for your city to facilitate the transition to climate neutrality?
City of Eindhoven, NL; Lighthouse City Triangulum project, Mr Henk Kok, Senior Strategist European Affairs
City of Milan, IT Lighthouse City Sharing Cities project, Mr Roberto Nocerino, Sharing Cities Project Manager for Milan Municipality
City of Valencia, ES Lighthouse City MAtchUP project, Mr Ernesto Faubel, MAtchUP Project Coordinator
20-25 minutes - Questions