Ridisegna le tua Carriera - Business Model You Workshop

Saturday, December 13, 2014 from 10:00 AM to 5:00 PM (CET)
Who's Going

Loading your connections...
3 of your friends are going.
Share it to get more people on board!
Share

Sara Haughty
San Francisco, California

Luke Picard
London, United Kingdom

Rick Vespucio
Florence, Italy
Event Details
Globalizzazione, crisi economica, sviluppo tecnologico e altri fattori chiave stanno da tempo riconfigurando tutti i mercati nonché le dinamiche e logiche del lavoro.
Per riuscire a fare leva su questi cambiamenti e trasformarli dove possibile in opportunità, chiunque abbia una professione deve capire oggi più che mai come individuare i suoi clienti a più alto potenziale, identificare e risolvere i loro principali problemi e cogliere e soddisfare le loro nuove esigenze. Anche se lavora all'interno di un'organizzazione.
Le aziende, infatti, da una parte devono riuscire ad allineare i team ai continui mutamenti di obiettivi e necessità, dall'altra hanno costante bisogno di risorse in grado di comprendere come creare valore verso i clienti interni, e quindi nei confronti dell'impresa stessa.
La forza del Personal Business Model Canvas sta nell'aiutarti con efficace semplicità a rappresentare in un'unica pagina tutti gli elementi principali del TUO modello di business personale: come un'azienda, infatti, ognuno di noi crea (o non crea) un certo tipo di valore per particolari tipologie di clienti, a partire dalle proprie specifiche risorse e attività.
Il segreto sta nel riuscire a farlo nel modo migliore possibile, in grado di massimizzarne i guadagni-vantaggi (non solo economici ma anche inmateriali) e nel ridurne sapientemente i costi.
Concretamente quindi, ottieni una visione chiara dei tuoi punti di forza e di come utilizzarli nel tuo lavoro per riuscire a mettere le tue capacità e risorse davvero al servizio della tua attività:
che sia in proprio oppure all'interno di un'azienda, 

che si tratti di migliorare la tua esistente oppure di lanciarti in una nuova avventura professionale.
Il tutto in pochi semplici passaggi.
IL PERSONAL BUSINESS MODEL CANVAS
E' lo strumento ideato da Tim Clark e dal Main Team di Business Model Generation assieme ad oltre 330 collaboratori da tutto il mondo, e successivamente divulgato nel best-seller Business Model You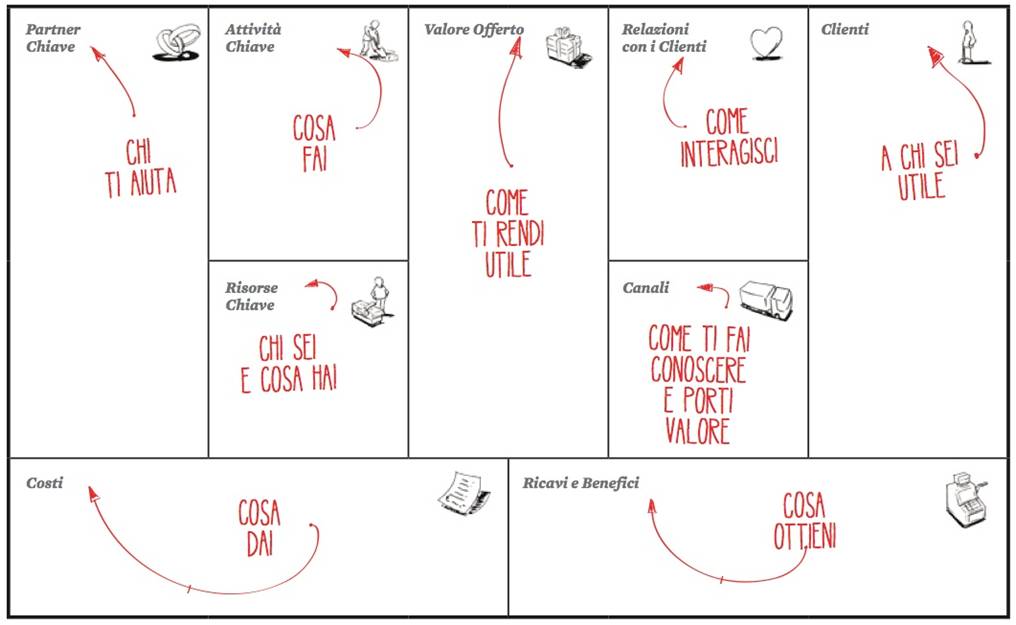 Grazie a questo metodo è possibile visualizzare, progettare e creare qualunque idea di business personale su una singola pagina: avrai così una chiara, sistematica e completa visione di come la tua attività riuscirà a generare il valore che cerchi di creare per te e per i tuoi clienti.
Il Personal Business Model Canvas ti aiuta a scoprire nuovi modi in cui le tue capacità, talenti e risorse possono riuscire a farti entrare sul mercato o addirittura crearne uno non ancora esistente, e aprire così maggiori, inaspettate e più soddisfacenti possibilità di carriera personale!
Come una mappa accurata può guidare efficacemente l'esploratore lungo il suo viaggio, con questo metodo-in-una-pagina riuscirai a muoverti letteralmente in modo nuovo nel mondo del lavoro, aumentando la tua padronanza ed il tuo senso di auto-efficacia.
Con il Personal Canvas quindi riuscirai a ideare, progettare e testare il tuo modello di business e a raggiungere questi obiettivi: 
trasformare velocemente le tue idee in

nuovi progetti

concreti

migliorare

e

innovare

sistematicamente la tua professione

focalizzare

il

valore

che rappresenti per il mercato e imparare a comunicarlo efficacemente

Scoprire nuovi clienti

e comprendere come servirli in maniera innovativa

Ridisegnare il tuo futuro lavorativo in base ai tuoi interessi, alle tue capacità e alle tue potenzialità
A CHI E' RIVOLTO IL WORKSHOP 
Liberi Professionisti

, che avranno la possibilità di (ri)definire la propria carriera basandola sui propri punti di forza e caratteristiche finora sottostimate e imparando a calzarle efficacemente sulle esigenze del mercato
 

Imprenditori e Manager

, che impareranno come usare il Canvas con i propri team, così da incrementare la loro efficacia e avere una visione strategica del proprio ruolo in azienda.
 

Chi vuole ricollocarsi

nel mercato del lavoro per presentare se stesso come un valore per il business dell'azienda a cui si propone

 
CHI SIAMO
Beople e Luigi Centenaro, oltre alla loro riconosciuta esperienza nel Business Design e nel Personal Empowerment maturata grazie a numerosi inteventi in grandi aziende, organizzazioni e business school, sono revisori tecnici del libro Business Model You® e in diretto contatto con Tim Clark: con noi quindi ti assicuri il massimo dell'aggiornamento e dell'efficacia formativa. 
"No group in Italy understands Business Model You ®better than Beople."
(Tim Clark)
OBIETTIVI RAGGIUNTI A FINE GIORNATA
 Grazie a queste competenze raggiungerai alcuni importanti obiettivi a fine giornata:
CONOSCENZA DEL PERSONAL BUSINESS MODEL CANVAS

,
approfondimento dei suoi elementi costitutivi e delle metodologie di utilizzo più efficaci

ESERCITAZIONI DEL CANVAS IN SESSIONI DI GRUPPO

,
il miglior modo utilizzare le potenzialità dello strumento

APPLICAZIONE DIRETTA DI TUE IDEE O PROGETTI AL CANVAS

,
supervisionati dai nostri trainer

ACQUISIZIONE DI METODOLOGIE DEL BUSINESS DESIGN


essenziali per l'innovazione e lo sviluppo della creatività applicata

AGENDA DEL WORKSHOP
 Il nostro workshop è altamente esperienziale, con esercitazioni e sessioni pratiche lungo tutta la sessione.
 MATTINA (09.30 -13.00) 
* Cos'è un Modello di Business e perché è importante conoscere il tuo
* Il Personal Business Model Canvas: utilizzo operativo
* Crea un sistema attorno alla tua professione grazie al Personal Business Model Canvas
* Analizza grazie al Canvas i "pain point" del tuo modello personale
* Presenta il tuo modello e ricevi feedback per evolverlo
POMERIGGIO (14.00-18.00) 
* Esplora nuovi clienti e ridisegna la tua Value Proposition
* Comprendi chi sei, cosa vuoi e cosa rappresenti
* Allinea i tuoi interessi, le tue capacità e le tue potenzialità
* Ridisegna la tua carriera grazie ai nuovi insight
* Pianifica le azioni per mettere in pratica il tuo nuovo progetto di carriera
Ci sarà inoltre uno spazio Q&A dedicato per le domande sul Personal Business Model Canvas e le sue applicazioni

DATA E LUOGO DEL WORKSHOP
Il workshop si terrà sabato 13 dicembre 2014 a Milano (location da annunciare)
Il prezzo del biglietto è comprensivo di coffee break e quick lunch.
E' previsto il rimborso del 50% del biglietto, qualora la cancellazione avvenga entro 2 settimane dalla data dell'evento.
Per pagamenti tramite bonifico bancario o altre informazioni potete scriverci all'indirizzo info@beople.me o contattarci al numero 

06-87751268
Have questions about Ridisegna le tua Carriera - Business Model You Workshop?
Contact Beople
Organizer
Beople
Beople è la prima azienda in Italia specializzata nell'innovazione dei modelli di business. Crediamo che la qualità meriti il successo: attraverso gli strumenti del Business Design aiutiamo le aziende a ideare e attivare nuovi modi per creare valore in mercati sempre più competitivi.