Sales Have Ended
Ticket sales have ended
Purtroppo i biglietti sono terminati. Puoi contattarci info@whyfestival.com e ti inseriamo nel nostro waiting list. Unfortunately, the tickets are sold out. You can contact us at info@whyfestival.com and we will put you in our waiting list.
Sales Have Ended
Ticket sales have ended
Purtroppo i biglietti sono terminati. Puoi contattarci info@whyfestival.com e ti inseriamo nel nostro waiting list. Unfortunately, the tickets are sold out. You can contact us at info@whyfestival.com and we will put you in our waiting list.
Impara la tecnica del ricamo creativo contemporaneo attraverso un approccio non convenzionale.
About this event
//scroll down for English
The workshop cost is 50 euro (registration fee, embroidery kit + tote bag are included).
Il workshop costa 50 euro a testa (l'iscrizione, kit da ricamo + tote bag inclusi).
Reserve your place on Eventbrite for 10 euro, and pay the rest on the workshop day.
Prenota il tuo posto con 10 euro su Eventbrite, e paga il resto al momento del workshop.
● Come funziona?
Per prima cosa ti verrà richiesto di scegliere un luogo appartenente ad una città italiana o estera. Sei libero di scegliere quello che vuoi, il tuo quartiere preferito, la città del tuo Erasmus, un luogo che non sopporti oppure uno che ami. Una volta scelta e stampata la porzione della mappa che ti interessa andrai a lavorare su di essa per creare il tuo artwork. Per rappresentare in modo unico ed originale il tuo logo potrai evidenziare, riempire, tracciare o trasformare quello che vorrai. Una volta definito il disegno, ti aiuteremo a trasporlo sulla tela per poter iniziare il ricamo. Potrai sperimentare diversi punti, colori e spessori, a seconda del tuo gusto e della tua creatività. Non ci sono regole!
● Cosa serve?
– Ad ogni partecipante verrà fornito un kit da ricamo personale da portare a casa al termine del workshop e una tote bag su cui realizzare il ricamo.
– Metteremo a tua disposizione qualche computer dove poter effettuare la ricerca del tuo luogo, se ti va, porta con te un laptop o tablet.
– Tutto quello che ti può servire per disegnare e colorare.
A cura di Calimaia Collettivo con Irene Giusti & Irene Manetti
Calimaia collettivo è una rete di giovani professionisti grafici ed illustratori che organizza eventi creativi, come workshop, mostre collettive, live painting e chi più ne ha più ne metta! Collettivo per noi significa scambio e collaborazione: Calimaia nasce con il fine di creare un punto di incontro fra i professionisti creativi e dare loro visibilità attraverso l'organizzazione di eventi sul territorio di Firenze e non solo!
Irene Giusti, laureata in Architettura e Design della Comunicazione all'ISIA di Firenze, oggi lavora come Graphic Designer. Durante il lockdown dedica le giornate alla macchina da cucire e alla creazione di cappelli che condivide sulla pagina Instagram di Capa.
Irene Manetti è un visual designer fiorentina. Irene ha studiato Design della Comunicazione a Milano, dove ha vissuto cinque anni. Progettista curiosa, è amante delle linee semplici, dell'armonia tra pieni e vuoti e della geometria. Nei suoi progetti personali, adotta spesso un linguaggio ibrido tra grafica e illustrazione.
Dal 2020, affianca Elisa Basilissi nella direzione creativa di Calimaia Collettivo.
per altre informazioni info@whyfestival.com
---
Learn contemporary creative embroidery through an unconventional approach.
● How does it work?
You'll be asked to choose a place from an Italian or foreign city. You can choose whatever you wish, as your favourite neighbourhood, the city where you spent your Erasmus, a place that you cannot stand or one you love. We're going to print the map portion you choose and you're going to work on it to create your artwork. By highlighting, filling and drawing you'll represent your place in a unique and original way. At this point, you're going to transfer the drawing to the canvas and start the embroidery. You'll be able to experiment with different stitches, colours and threads following your taste and creativity. Rules don't apply!
● What do you need?
– Everyone will receive a personal embroidery kit to bring home and a tote bag to embroider.
– We'll bring a couple of laptops for you to use to search your place. If you can, bring your own device!
– Everything you may need to draw and paint.
Curated by Calimaia Collettivo with Irene Giusti & Irene Manetti
Calimaia is a Florentine network of young and emergent graphic designers, illustrators and artists. The collective organises various creative events, such as workshops, exhibitions, live paintings and urban art projects. "Collettivo" for us means collaboration and exchange: Calimaia aim is to connect and promote creative minds.
Irene Giusti is a graphic designer who graduated in Architecture and Communication Design at ISIA Firenze. She spent the lockdown on the sewing machine creating hats that she shares on her IG @capaheadwear
Irene Manetti is a visual designer who graduated in Communication Design in Milan, where she lived for five years. Working with a curious mind, she loves essential lines, visual balance and geometry. In her work she often uses a hybrid language between graphic design and illustration. Since 2020, she works with Elisa Basilissi on the creative direction of Calimaia Collettivo.
for other information - info@whyfestival.com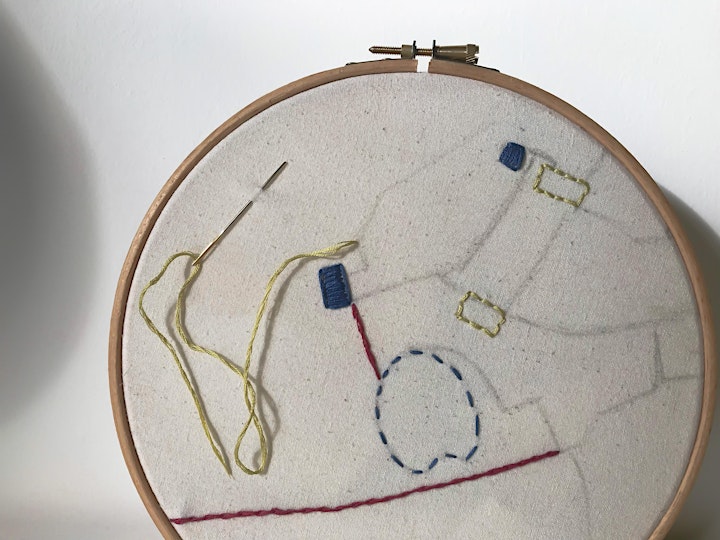 Organizer of RICAMI URBANI: Workshop di ricamo creativo con Calimaia
WHY Graphic Design Festival torna a Firenze con la sua 5a edizione il 26-28 novembre 2021, e sarà ospitato anche quest'anno all'interno dello Student Hotel. Con un programma ricco di workshop, conferenze, masterclass, presentazioni, discussioni e mostre, WHY festival si propone di riunire studenti provenienti da tutto il mondo, designer emergenti e professionisti per discutere e scambiare idee, preoccupazioni, pensieri ed esperienze. Il festival è un evento no profit nato da una collaborazione internazionale tra studenti, insegnanti e professionisti nel campo della comunicazione visiva.

WHY
Il Festival è stato lanciato a Firenze nel 2016 come risposta alla cronica mancanza di mostre, conferenze, incontri e altri eventi pubblici sul design in una città che ospita un gran numero di scuole e altre realtà che si occupano di comunicazione visiva. Volevamo dare l'opportunità a studenti, grafici, illustratori, tipografi, stampatori, educatori e altri rappresentanti del mondo del design e della comunicazione di creare una nuova comunità attorno a un argomento che tocca le loro vite e carriere. Una comunità come questa apre la possibilità di utilizzare il Design come strumento per effettuare cambiamenti, ripensare strategie e priorità, esprimere desideri e preoccupazioni e discutere questioni generazionali.
Il festival si propone di coprire tutte le aree della comunicazione visiva come grafica, tipografia, illustrazione, direzione artistica, arte multimediale, web design, UI / UX, stampa manuale, papercraft ecc. È un'occasione unica di incontro in cui diverse categorie di studenti e creativi possono conoscersi e ispirarsi a vicenda, imparare nuove tecniche, scoprire nuove aree di espressione e allargare i propri orizzonti.

WHAT
Il programma del festival comprende contributi di grafici, illustratori, art director e altri creativi. Tutti gli eventi sono gratis, a parte i workshop.

WHERE
Festival sarà ospitata dal nostro partner The Student Hotel.

WHO
Il festival è fondato e organizzato da Nvard Yerkanyan e Laura Ottina.

---

WHY Graphic Design Festival returns to Florence with its 5th edition on November 26-28, 2021, to be hosted once again at The Student Hotel. With an intensive weekend program of workshops, talks, masterclasses, presentations, discussions, and exhibitions, WHY festival aims to bring together students from all over the world, emerging designers and professionals to discuss their ideas, concerns, thoughts, and experiences. The festival is a non-profit event born trim an international collaboration between students, teachers, and professionals in the visual communication field.

WHY
The Festival launched in Florence in 2016 as a response to the scarcity of exhibitions, public lectures, meetings and events about design in a city brimming with visual communication students. We wanted to give an opportunity to students, graphic designers, illustrators, typographers, educators and other representatives of the world of design to create a new community of people around a topic that touches their lives and careers. A community like this opens the chance to use Design as a tool for effecting change, rethinking strategies and priorities, expressing desires and concerns, and discussing generational issues.

The festival aims to cover all areas of visual communication such as graphic design, typography, illustration, art direction, multimedia art, web design, UI/UX, manual printing, papercraft, etc. It is a unique occasion to connect all kinds of students and creatives to get to know and inspire each other, develop themselves, discover other areas of expression and broaden their horizons.

WHAT
The program of the festival features graphic designers, illustrators, art directors, and other creatives.

The festival program is free and open to the public!
Register for our workshops at Eventbrite!

WHERE
The festival will be hosted by our partner The Student Hotel.

WHO
The festival is founded and organized by Nvard Yerkanyan and Laura Ottina.