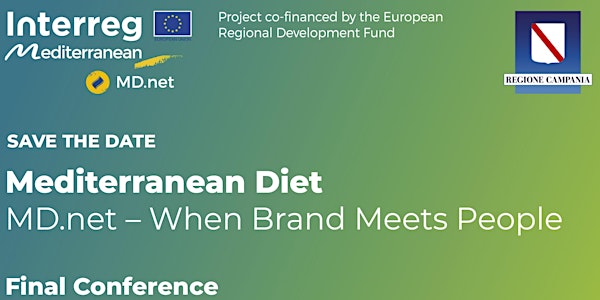 MD.net Final Conference ONLINE
MD.net Final Conference ONLINE
Informazioni sull'evento
DOPO LA REGISTRAZIONE TI INVIEREMO IL LINK PER ACCEDERE ALLA CONFERENZA
AFTER REGISTRATION WE WILL SEND YOU THE LINK TO JOIN THE CONFERENCE
Pronti a partecipare alla conferenza finale di MD.net?
Il progetto di cooperazione transnazionale sulla Dieta Mediterranea si appresta a consolidare una rete tra tutti i partner europei per dare avvio a nuove attività e nuove opportunità di lavoro, anche grazie all'adesione alla Med Diet Declaration (aderisci qui). La fase di capitalizzazione consiste nell'integrare i risultati del progetto MD.net, costruito in quattro anni di attività comuni, con la creazione dell'Eurocluster della Dieta Mediterranea (Med Diet Eurocluster), un'organizzazione creata per condividere sinergie e complementarità tra territori e attività attorno alla Dieta Mediterranea.
Are you ready to attend the MD.net final conference?
The transnational cooperation project on the Mediterranean Diet is preparing to consolidate a network among all European partners to launch new activities and new job opportunities, also thanks to Med Diet Declaration (join here). The capitalization phase is to mainstream the MD.net project outputs, built in four years of common activities, with the creation of the Mediterranean Diet Eurocluster (Med Diet Eurocluster), an organization set up to share synergies and complementarities among territories and activities around the Mediterranean Diet themes and values.
Programma / programme: https://www.scabec.it/attivita/md-net-final-conference