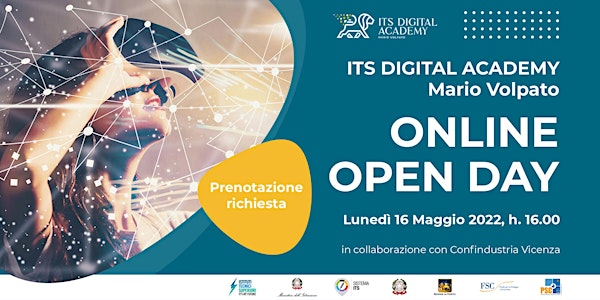 ITS Digital Academy "ONLINE OPEN DAY"
2° Open Day sui corsi di ITS Digital Academy
Informazioni sull'evento
Secondo incontro sui corsi altamente specializzati e certificati di ITS Digital Academy "Mario Volpato".
Un appuntamento online in cui potrai scoprire di più sui nostri 5 percorsi formativi post diploma focalizzati su 5 figure professionali altamente richiesto dal mondo del lavoro odierno:
Web Developer Full Stack;
Digital Marketing and Innovation Specialist;
Machine Learning and Data Specialist;
Cyber Security Specialist;
Cross Media Communication Specialist.
Ti aspettiamo Lunedì 16 Maggio, dalle 16.00 alle 17.00.
Puoi accedere alla videoconferenza tramite questo link: meet.google.com/ixj-nidb-euc
L'evento è organizzato in collaborazione con Confindustria Vicenza.
Se vuoi sapere di più sui corsi visita il nostro sito itsdigitalacademy.com
-----
Perché scegliere un corso ITS?
I corsi ITS Digital Academy "Mario Volpato" per le Tecnologie dell'informazione e della comunicazione sono realizzati in collaborazione con imprese, università, centri di ricerca ed enti locali per fornire agli allievi competenze di elevato livello di specializzazione immediatamente spendibili nel mondo del lavoro.
A chi sono rivolti?
Ragazze e ragazzi neodiplomati con diploma di istruzione secondaria superiore o che hanno ottenuto la specializzazione professionale nei percorsi di I.F.T.S. - Istruzione e Formazione Tecnica Superiore
Laureati che desiderino acquisire una specializzazione direttamente spendibile sul mercato del lavoro
Giovani adulti interessati a colmare gap di offerta presenti sul territorio